A grizzled warrior attempts to stop a third world war in the mobile adventure Modern Combat 5: Blackout (Gameloft, Rated Mature, reviewed on iPad 2 and iPad 3, $6.99).
The clear leader of the first-person shooter genre of games for tablet and smart phones, Modern Combat is back, wading into more familiar territory and mythos for the gamer but looking better than ever.
A player becomes Caydan Phoenix, a former U.S. Marine who is part of a Special Forces unit trying to stop the terrorist organization the World Liberation Army. Yes, we heard it all before, in near any "Call of Duty"-style game, and Gameloft relishes in a story mired in clichés, conspiracy and angst.
He'll meet more hardcore teammates such as the beefy Isaac Tukura along his journey as well as his fiery-redheaded boss Sophie (Raux) Daviau who could easily be swapped for the Avengers Black Widow with her healthy form and skintight garb.
Through a six-chapter blockbuster encompassing dozens of missions, a player wades through a story campaign across often confined quarters in modern-day Japan and Italy and engaging in an endless supply of firefights with some dunderheaded opposition.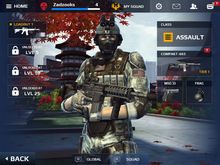 These bit-sized missions average around 10 minutes and are easily accessed via a map resource. The compact events are the perfect way to appreciate Blackout for the gamer on the go.
The cinematic graphics stand right from the start as Caydan deploys into a body of water and quickly moves to fight on a speedboat, where he sits behind a stationary gun turret blowing away vehicles and a helicopter.
Besides pretty explosions, lens flares abound during the panoramic moments while water droplets splash on the screen and blood sprays, near blocking the vision of the warrior as he dishes out death and takes more damage from enemy fire.
Caydan wields an arsenal that arrives through concise loadout choices before a mission or picking up fallen foes arms during combat. Each comes to life through tapping a bank of virtual icons on the right side of the iPad's touch-screen.
That could mean tossing a grenade, shooting a high-caliber rifle, sending out a drone to ping an enemy or identify an explosive object's location, or taking part in a quick-time event by swiping over a set of arrows to handle close quarter kills.
A player moves with virtual directional pad on the lower left of the screen or taps an icon to crouch and hide, ducking enemy fire.
Additionally, micro-missions exist in each chapter. They offer a mini-game approach called Spec Ops requiring actions such as sniping to protect companions (including controlling the bullets as they reach the target), assassinating a specific target, clearing rooms of enemies (while not shooting the hostages) and defusing bombs.
As expected, each successful mission with completed objectives racks up the experience points and unlocks more goodies, often weapons and pieces of weapons tied to the firepower used during the actions.
Those who love the campaign mechanics will immediately settle into the competitive and fun of multiplayer squad vs. squad matches. It boasts bigger maps and five game modes as well as more customized weapon loadouts, four classes of warriors — Heavy, Sniper, Assault and Recon — and tricks down to snipers sending out decoys to sucker opponents.
One caveat to the broadband challenged: The game requires an Internet connection even just to play the solo campaign, making it not quite as mobile friendly. In fact, folks scrimping for connectivity will often see "MC5 is reconnecting to the server" leading to some excruciating down times and frustration.

Still, Modern Combat 5 delivers a content-rich, cost-efficient, addictive bridge for gamers waiting for even more impressive first-person firepower to arrive on their tethered, high-powered entertainment consoles this fall.