ANALYSIS/OPINION:
Let's play a game of let's feel old. Really old. All you have to do is take a look at the box score from Team USA's 9-0 victory over Switzerland on Monday in preliminary women's Olympic hockey action.
One of the goals for Team USA came from 19-year-old Alex Carpenter.
That makes her a year older than her father was when he made his debut for the Capitals in 1981.
Capitals followers of a certain age no doubt remember Bobby Carpenter, the Sports Illustrated cover boy who came to the Caps with the third overall pick in the 1981 entry draft.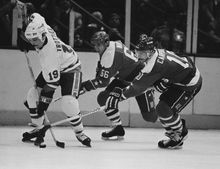 On its Feb. 23, 1981, cover, Sports Illustrated ran a picture of Carpenter with the headline "Can't-Miss Kid." The cover noted NHL scouts said he was the best U.S. prospect they'd ever seen. A few months later, he was a Capital.
---
SEE ALSO: Alex Ovechkin gets to work in Sochi with relaxed attitude
---
Craig Laughlin, six years older than Carpenter, made his NHL debut the same season Carpenter made his. Laughlin, now the color commentator on the Caps' television broadcasts, was with the Montreal Canadiens.
"The one thing I remember about him most of all was his speed," Laughlin said. "His stride — he was very fluid, very efficient. He also had, and it was amazing as a young kid he would have that, a sort of nastiness to him. He could play physical. He had that cool combination.
"A kid coming into the NHL, maybe you could bamboozle him. All that chatter didn't bother him one bit. He had that strong sense of self, was a fierce competitor from day one in the NHL."
The next season, the two were teammates. Laughlin came to the Caps along with Rod Langway and lasted longer in D.C. than Carpenter did.
"We used to give him the business," Laughlin said with a laugh. "He had the Sports Illustrated things posted in his locker that said 'Can't-Miss Kid.'
"But he was the can't-miss kid and I think he proved that. We noticed as soon as we got here that he was very outgoing, very exhuberant. And most of all, when he got on the ice he was unbelievably talented for such a young kid."
Carpenter's career certainly started out with a can't-miss flair. As an 18-year-old rookie, he scored 32 goals and had 35 assists. The next season, when Laughlin and Langway arrived, the Caps made the playoffs for the first time as Carpenter had another 32 goals and 37 assists. As a 21-year-old, he scored 53 goals to go along with 42 assists. He never had fewer than 28 goals in his first five full seasons.
Langway, another star from the States, knew about Carpenter before Carpenter got into high school. His thoughts on Carpenter are similar to Laughlin's.
"Mike Gartner was also in Washington when we got there and he was one of the fasted players in the world," Langway said. "Bobby could keep up with him. Bobby was very edgy, tougher than everybody thought. He played with a little backbone. He had gumption, there's no question he had pride."