VIERA, Fla. — It is the date baseball fans wait for all winter. While locals dig out from under another snowstorm, pitchers and catchers are reporting to spring training in Florida and Arizona over the next four days.
The Nationals' pitchers and catchers take the field at Space Coast Stadium on Thursday. By the end of next week every player in baseball will be in camp and preparing for the 2014 season. Here are some early storylines:
Return of the beasts
The American League East is back. Yes, the Boston Red Sox won the World Series in 2013 and the Tampa Bay Rays made the playoffs yet again. But it isn't quite the same if the New York Yankees are sitting at home in October. And that's exactly what happened after an 85-77 season.
And so the Yankees did what they do best: Opened the checkbook. That started by swiping center fielder Jacoby Ellsbury from the Red Sox, who weren't willing to match that seven-year, $153 million contract to a 30-year-old.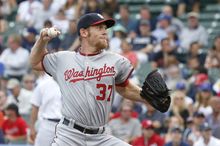 New York also signed catcher Brian McCann and veteran outfielder Carlos Beltran. But the big move was a combined $155 million for Masahiro Tanaka, the Japanese import whom they hope can be the next Yu Darvish and stabilize a fraying starting rotation. But was all that cash enough to push them back into the playoffs let alone overtake Boston and Tampa Bay? It's their last chance with star shortstop Derek Jeter, who announced Thursday this is his final season.
Bounceback for Nats?
The Nationals are another team coming off a disappointing season. You know the bar has been set high when 86 wins represents a complete failure. The addition of Doug Fister via trade makes this perhaps baseball's best rotation.
But it still begins with Stephen Strasburg, who pitched through bone chips in his elbow most of last season and still posted a 3.00 ERA. What would he do if he was actually healthy? Washington hopes to find out this season. Strasburg had offseason surgery to clean out the right elbow. He's ready to go entering spring training (though the team might still bring him along slowly) and is in that elite group of pitchers who could dethrone reigning Cy Young Award winner Clayton Kershaw. Could this be the first season Strasburg hits 200 innings pitched? That's the next step the Nats need him to take.
Late-breaking moves
It's too early to make definitive predictions. That's because teams aren't finished adding to their rosters yet. Even on Wednesday, the Philadelphia Phillies handed veteran pitcher A.J. Burnett a one-year, $16 million contract. That's a huge boost given Burnett's 3.30 ERA with Pittsburgh last season and an early injury to ace Cole Hamels (shoulder tendinitis).
But what about pitchers like Ubaldo Jimenez, who has yet to sign a contract after a fine season with Cleveland? At age 30, he's the best option left on the market and one of the best free agents available this winter. A contender could tip the balance by adding Jimenez — even if it comes after most players are already in camp. He had a 3.30 ERA last season for the Indians.
Ervin Santana, 31, had a fine 2013 season with Kansas City (3.24 ERA) and is also still on the market. A team like Baltimore, which has done little this offseason, could give itself a better chance in the AL East.
Motown overhaul
Big changes in Detroit, where the Tigers have won three AL Central division titles in a row, won an AL pennant and played in the World Series. But manager Jim Leyland retired after the season and general manager Dave Dombrowski decided his club needed a facelift. Gone is Prince Fielder and his massive contract. Detroit traded him to Texas for Ian Kinsler, who takes over at second. Miguel Cabrera also moves to first, which is a better fit than third base, where his defense was below average at best. Nick Castellanos takes over there at his natural position.