It's Ladies Night in the District — but it's not being held at a bar or at a concert club. It's at a comic book store in Union Station, and the women in attendance on a recent weekend night indulge in a shared enthusiasm for one of the last markets that typically excludes them.
Among the women were Capitol Hill interns, an aspiring screenwriter and a couple of law school students.
"Professionally, I work as a lifeguard. For a living, I collect comic books," said India Pasiuk, 21.
They came from a variety of backgrounds and traveled from Capitol Hill, Arlington and Baltimore. Some had a deep-rooted affair with comics, and others were still getting acquainted. Those who were looking for a place to start in the comic world were plied with suggestions.
Here, they can embrace their inner geek — far from the sneers and prejudices of young men to whom the industry is geared.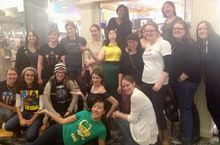 Esther Kim, 27, manager of Fantom Comics, greeted about two dozen women as they arrived around 6 p.m. on a Sunday night. A few early birds decorated an official Ladies Night poster that would hang outside the store. No one could find a red marker, so Superman's logo and Captain America's shield were colored pink instead.
By the time most of the women arrived, the corner table had collected a full spread of Uno's pizza and cheese sticks, homemade cookies and brownies.
When a woman sporting the costume colors and headgear of the Marvel Comics villain Loki burst onto the scene armed with two containers filled with beer-candied bacon, Ladies Night was officially in session.
Although it's long been considered a male-dominated market, no definitive statistics show the demographics of comics adherents. But there is evidence that women can be wooed into the world of superpowers and spandex. Superhero films — such as DC Comics' Superman and Batman franchises and Marvel Comics' X-Men and Iron Man series — are carrying comics characters to broader audiences.
Entertainment Weekly reported that the opening weekend audience for the 2012 Marvel Comics film "The Avengers" was 40 percent female. NBC News said the 2012 opening weekend of "The Amazing Spider-Man" attracted an audience that was 42 percent female.
Still, industry observers say the numbers of female comics enthusiasts is difficult to define.
"DC did a survey and said that only 7 percent of their readers were women, but an offshoot of the survey came up with 23 percent," said Jessica Maybury, editor of the website Girls Like Comics. "At conventions, the attendee demographics are far closer to 50 percent."
Maggie Thompson, an industry icon who for decades published the Comic Buyer's Guide trade magazine, said the number of women who attend large comic book conventions has grown.
"At the first big New York City comics convention, there were four females. That was 1966, and I was one of the four. Things have changed wonderfully," she said.
Ms. Thompson, who last year began auctioning her personal comic book collection estimated at more than $1 million in value, said she started reading comics in the 1940s. She said readership back then was about evenly divided between boys and girls. Over the years, however, as the comics rack disappeared from the drugstore and the five-and-dime, the industry changed to suit the market.