Hey man, like it's a bummer: There's unintended collateral damage when marijuana is legalized for recreational use.
Legalization is "bad for the state's wholesome image" according to a majority of registered Colorado voters. So says a new Quinnipiac University poll, which finds that 51 percent of the respondents agreed with the idea. Oh, but here's a partisan divide. Almost three-fourths of the Republicans - 73 percent - felt the image had been sullied.
But 57 percent of Democrats say legalization is actually good for the state's image.
It's the same story in the under-30 crowd versus geezers: 57 percent of voters under 30 say it's good, compared to 67 percent of those over 65 who say it's bad. Consider that some of those may actually be aged hippies. But no matter.
"Slightly more than half of Coloradans say they've smoked marijuana at some time in their life, but only 10 percent admit to taking a legal toke since Jan. 1," says Tim Malloy, assistant director of the Quinnipiac Polling Institute.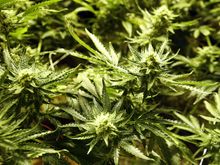 He adds that only 17 percent of Colorado voters say they would try marijuana brownies if someone brought them to a get-together, while 64 percent of voters say they would be "very uncomfortable" riding in a car with a driver who has smoked or consumed moderate amounts of marijuana.
The survey of 1,139 registered Colorado voters was conducted Jan. 29-Feb. 2. Incidentally, the poll found that overall, 58 percent of the voters actually approved of legalization. It's the particulars that make them a little nervous.