Motorists who parked their vehicles on one of the District's declared snow emergency routes as the flakes began to fall Thursday night got a winter wallop in their wallets.
The city levied more than $180,000 in fines to motorists during the first D.C. snow emergency in four years. Officials are likely to find a quick use for the cash, having overspent their annual snow-removal budget in the course of clearing the 8 to 11 inches that fell across the District.
"We know that we have exceeded the budget, but we don't know by how much," Department of Public Works spokeswoman Linda Grant said.
---
SEE ALSO: D.C. dramatically revises number of vehicles ticketed during snow emergency
---
The city removed 214 vehicles from the streets at a cost of $250 for illegal parking and $100 in tow fees for a total of $74,900 in fines. Ms. Grant said 436 other vehicles were not towed, but their owners were hit with the $250 fine, which amounts to $109,000.
While the snow is rapidly retreating, some motorists still might be dealing with pain in the pocketbook. Towed vehicles also had to pay a $20 impound fee and $20 per day for storage if they left their car for more than 48 hours.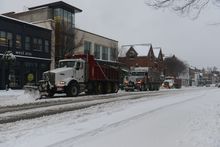 The costs can continue to climb. If a parking ticket goes unpaid after 30 days, the fine doubles. Before any impounded vehicle is released, all outstanding tickets — even those years-old traffic camera citations — have to be paid in full.
Officials could not say for sure how many vehicles have been retrieved because only 52 of the 214 towed cars were taken to the city's impound lot at Blue Plains in Southeast.
Ms. Grant said all but three of the cars taken to Blue Plains had been claimed by their owners as of Tuesday. The other cars were handled by companies that have contracts with the city.
For those who might try to contest the parking tickets, lawyer K. Lawson Wellington — who advertises himself on Facebook as the "D.C. Traffic Lawyer" — said it probably isn't worth fighting.
"My gut is that, no, especially with D.C., where it's a money machine," he said. "It's really a money machine."
Mr. Wellington said that, in his experience, hearing examiners like those who consider parking tickets are less forgiving than judges when it comes to traffic offenses — even in cases where signs might have been obstructed.
"DMV's a rule unto themselves," he said. "They pretty much do almost what they want to do."
The windfall of parking tickets and tow fees for the 24 hours after the snow emergency went into effect at 6:30 p.m. Feb. 12 isn't expected to offset the cost of digging out the city.
Officials are still examining invoices and tallying expenses from the 50 contractors hired to supplement the District's plows as well as other vendors that provided aid.
But, after the main storm and then the dustings on city streets early Friday and again Tuesday night, officials are confident that they have drained the $6.2 million annual snow-removal budget.