SOCHI, Russia — The United States' hockey team is getting exactly what it wanted. Another shot at Canada.
Dustin Brown banged in a go-ahead goal late in the first period and the Americans went on to dominate the Czech Republic 5-2 Wednesday to earn a spot in the semifinals for the third time in four Olympics.
The U.S. went on to play in the gold-medal game in 2010 and 2002 and lost each time to the Canadians.
---
SEE ALSO: Russia crumbles: Hockey team bounced from Olympics with loss to Finland
---
When the Americans' coach, Dan Bylsma, was asked to look ahead to the matchup, he took a deep breath and paused for several seconds to gather his thoughts.
"We knew we were going to have some big games prior to this point in time, but you were looking forward to the possibility of this rematch," he said.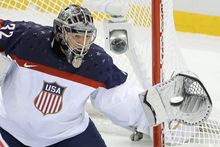 After a day off, the countries that share a long border in North America and generally friendly relations will meet on Friday for the chance to become hockey champions of the Sochi Games.
---
SEE ALSO: HARRIS: Will Alex Ovechkin sulk or soar after Olympic failure?
---
"It's a great opportunity," American forward Max Pacioretty said. "They're obviously the favorite coming into the tournament, and we've opened up a lot of eyes with our play, but we have more in the tank to give and to show.
"We keep getting better every game and hopefully we'll keep getting better after this one."
While the Canadians had to hold off Latvia 2-1, the U.S. might be peaking at the right time to improve its chances to win Olympic hockey gold for the first time since the "Miracle on Ice," in 1980.
If the U.S. wins two more games, anyone who has been watching them play won't be surprised.
"This is a team that has put up a spectacular performance," Czech Republic coach Alois Hadamczik said.
And it wasn't the first time in Sochi.
The U.S. has been tested only once, in a 3-2, eight-round shootout against the host Russians in the preliminary round. The Americans crushed the Czech Republic, Slovakia and Slovenia by a combined score of 17-4.
The Americans shaped their roster with players who skate fast, hit hard, share the puck and score.
"It starts off the ice," Pacioretty said. "Everyone on this team realizes you have to play for the team and check your ego at the door. All of us are the top players on our team back home and you come here and you're asked to play different roles.