ANALYSIS/OPINION:
The final few weeks of the Capitals' season already figured to be interesting, given how the team is doing its playoff tightrope dance. With 23 games to play, the Caps are just on the outside of playoff position with a difficult schedule ahead.
Given what happened Wednesday miles away in Sochi, Russia, things are going to be considerably more interesting.
---
SEE ALSO: Russia crumbles: Hockey team bounced from Olympics with loss to Finland
---
Will there be an Olympics hangover for Alex Ovechkin, the reigning NHL most valuable player and captain of the Capitals? What will the Caps see over those final games? A sulking Ovi who drags the team down with him, or a determined Ovi who lifts the team with one of his spectacular stretches?
Colleague Thom Loverro touched on the topic before the Games and now it is a reality after Russia's 3-1 defeat at the hands of Finland on Wednesday in the quarterfinals. Ovechkin will return to D.C. without a medal. He scored a quick goal in Russia's opener and didn't have another.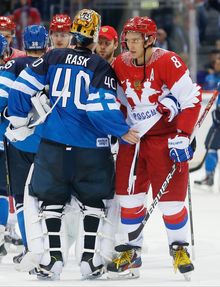 The Olympics were nothing less than a crushing disappointment for the entire Russian team. Ovechkin was less than brilliant, though hardly alone. Anyone who pins Russia's failures on him is being overly harsh. It was definitely a team effort.
---
SEE ALSO: Semi-tough: USA rolls past Czechs in Olympic hockey
---
But the mood of the rest of the Russians doesn't matter here. "Inside, I'm absolutely empty," Russian captain Pavel Datsyuk said through a translator, as reported by the Associated Press. That's for the Detroit Red Wings to digest.
The agony of an entire country doesn't matter here.
The only thing that matters in Washington is how Ovi reacts when the Caps resume their season Feb. 27 against the Panthers in Florida.
"We had a good start, score [on the] power play, feel pretty good," AP quoted Ovechkin as saying. "Few mistakes cost us the game. We tried to score another one, but we didn't score. No emotion right now."
There's your worry. Does he get it back or does the malaise last?
We've learned a lot about Ovi during his days with the Capitals, most of it good. He is a breathtaking talent. He's a three-time MVP and none was a fluke. He's leading the NHL in goals this season.
He's also a bit of an enigma, capable of disappearing for long stretches. We've seen the "only one goal" thing before, just last season against the Rangers in the playoffs. He scored in the opener and didn't score again as the Caps lost in seven games.
One thing we also know for sure: He has a lot of pride, particularly in his home country he loves so much.
Ovi is only 28, so these were not the last Olympics for him. Barring a sudden erosion of skills, he's good for one and maybe two more Games.