SEOUL, South Korea (AP) — The first reunions of North and South Koreans in more than three years came too late for 90-year-old Seo Jeong-suk. She died in South Korea just 15 days ago.
So the daughter she grew old with, Kim Yong-ja, could not reintroduce her to the one she had not seen in more than 60 years. Kim, 68, could only sob and hand her long-lost sister a framed photograph of Seo, according to South Korean media pool reports.
Kim Yong Sil clasped the photo to her chest and said, "It's Mom's photo."
Dozens of elderly Koreans wept and embraced in a rush of words and emotion Thursday at North Korea's Diamond Mountain resort, in a rare period of detente between two bitter rivals that were once a single country. The reunions were all the more poignant because the participants will part again in a few days, likely forever.
South Korean TV showed old women in brightly colored traditional hanbok dresses talking and hugging, families trading photographs of relatives who couldn't attend or had died. Two men in suits and ties wiped away tears, grasped each other by the necks and pressed their foreheads together as cameras flashed. One old man was wheeled in on a stretcher, his head propped on a pillow, a blue blanket wrapped tightly around him.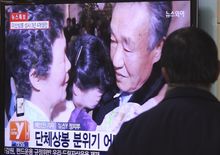 Aging and illness made some reunions bittersweet.
"Sister, why can't you hear me?" North Korean Ri Jong Sil, 84, asked 87-year-old Lee Young-sil, who has difficulty recognizing people because of Alzheimer's disease, according to pool reports.
Tears flowed down Ri's deeply wrinkled face as Lee's daughter began sobbing, telling her mother: "Mom, it's my aunt. It's my aunt. She's your sister."
The difference in the sisters' family name is a product of the Korean Peninsula's division: It's basically the same family name but each country uses different spelling rules in both Korean and English.
Ri Chol Ho, 77, from North Korea, used a piece of paper to communicate with his 81-year-old brother from South Korea, Lee Myeong-ho, who has a hearing problem.
"Mother used to tell me that you would return home and buy me a pair of rubber shoes," Ri wrote on the paper that he passed to his brother, according to the pool reports.
About 80 South Koreans traveled through falling snow with their families to meet children, brothers, sisters, spouses and other relatives. Seoul had said about 180 North Koreans were expected.
The meetings are a vivid reminder that despite 60 years of animosity, misunderstanding, threats and occasional artillery exchanges, the world's most heavily armed border divides a single people.
Millions were separated from loved ones by the tumult and bloodshed of the 3-year war that ended in 1953, but few have been reunited. During a previous period of inter-Korean rapprochement, about 22,000 Koreans had brief reunions — 18,000 in person and the others by video. None got a second chance to reunite, Seoul says.
Thursday's reunions were arranged after impoverished North Korea began calling recently for better ties with South Korea, in what outside analysts say is an attempt to win badly needed foreign investment and aid. The North, however, sent mixed signals by threatening to scrap the reunions to protest annual military drills between Seoul and Washington set to start Monday.