A conservative political action committee's controversial anti-Mitch McConnell sign campaign has racked up huge costs, but local officials are concerned that the removal of the signs will cost even more in taxpayer money.
The FreedomWorks super PAC has blanketed parts of Kentucky with "Retire McConnell" signs opposing the Senate minority leader, who is facing a primary challenge from Matt Bevin. Campaign finance records filed with the Federal Election Commission show that FreedomWorks spent $23,217 on the signs.
City officials in Louisville have contacted FreedomWorks, which has endorsed Mr. Bevin, asking the group to take down the hundreds of signs posted all over Jefferson County, The Hill reports.
In Louisville, political groups are only allowed to post signs two weeks prior to Election Day and must remove them within two weeks following the election or face a fine of $100 per sign. Signs must also be approved by the local government prior to being posted.
Louisville Metro Government Code Enforcement Officer Chris Monahan told The Hill that city officials did not want to suppress free speech but the signs might ultimately have to be removed by state officials.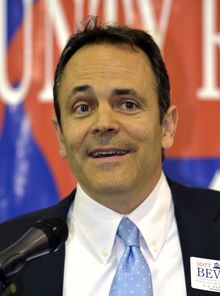 "How many dollars in taxpayer money and public works staffers is going to be spent cleaning this up?" he said.
FreedomWorks' national political director, Russ Walker, told city officials that the group had no intention of removing the signs.
"That's absurd," Mr. Walker told The Hill regarding the signage regulations. "People should have the right to put signs up in support or opposition to candidates when they feel inclined. … I love it how cities pass code to squelch peoples' free speech."
FreedomWorks did not direct volunteers on where to post the signs, but Mr. Walker said the fact that they were posted everywhere is evidence of the grassroots support Mr. Bevin is drawing in Kentucky.
"We actually have thousands of people who are engaged," he said, "and typically the McConnell campaign has to go out and buy this kind of support."