VIRGINIA BEACH, Va. — Elaine Kubiak finds it impossible to reconcile the social-climbing, bullying and bizarre-acting former first lady of Virginia being portrayed in federal court papers and the media with the woman she's known for two decades.
The Maureen McDonnell that Kubiak remembers was a thrifty woman of faith who cleaned the house and sprayed for bugs herself; who supplemented the household income by selling vitamins and making custom drapes on the sewing machine future Gov. Bob McDonnell gave her as a wedding present; who prayed over the car whenever one of their five children went out for a drive.
"I know her as a very, very nice, unassuming person, and a very frugal-living person — a very hardworking person," said Ms. Kubiak, whose attorney husband worked and socialized with the ex-governor.
That is not how the U.S. Department of Justice sees it.
Barely a week after Mr. McDonnell left office last month, a federal grand jury indicted him and his wife on 14 counts each of trading on their influence to enrich themselves and family members. And while investigators say the once-rising Republican star accepted lavish gifts, golf outings and other favors in exchange for boosting businessman Jonnie R. Williams Sr. and his company, Star Scientific Inc., the 43-page indictment paints Ms. McDonnell as the one who had her hands outstretched the most.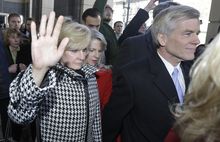 What started with a request for help purchasing a designer gown for her husband's inauguration in 2009 ballooned into gifts of designer clothes and accessories, personal loans, a Rolex watch and a large check for her daughter's wedding reception, prosecutors allege. In return, they say, Mr. Williams got special access to state officials, a reception at the executive mansion and Mr. McDonnell's endorsement for what was to be Star Scientific's breakthrough product : Anatabloc, an anti-inflammatory.
Both have pleaded not guilty. Mr. McDonnell maintains he did nothing illegal for Mr. Williams "in exchange for what I believed was his personal generosity and friendship." Ms. McDonnell and her attorneys have declined comment.
…
"Awkward Cinderella trying too hard to fit in at the castle" read one headline in The Washington Post about the 59-year-old first lady when the scandal broke last summer.
Indeed, many in the state have wondered whether this was a case of a one-time middle-class girl trying to fit in to a new world and, in doing so, possibly crossing the line.
For much of her life, extravagance seemed to matter little to Ms. McDonnell.
Born in McLean, Va., she was the third of nine children to Frank and Geraldine Gardner, civil servants who met while working at the FBI — he as an agent, she as a stenographer. Mr. Gardner moved the family to Mexico in 1966 to take a string of consular positions.
Ms. McDonnell attended a high school in the border town of Laredo, Texas, where she won a coveted spot on the high school's nationally recognized dance team and was voted first runner-up for "most beautiful" her senior year. That same year, doctors discovered a tumor in one of her breasts. It was benign, but doctors told her she was predisposed to cancer — a warning that she credits for her lifelong focus on health care and wellness.
"That day in my youth governed my life," she told a crowd at a women's forum in 2010.
After graduation, Ms. McDonnell followed her parents into civil service. She worked for a time with the FBI, then moved to the State Department, where she rose from secretary-stenographer to an assistant handling security clearances, according to a 2010 interview with Virginia Capitol Connections Quarterly Magazine. She also took classes at a Virginia community college.
During the summer of 1973, the 19-year-old was attending a party when she caught the eye of a young University of Notre Dame student.