The United States is hardly a poverty-stricken, Third World nation with a broken economy — and so should stop acting like one, said Secretary of State John Kerry to a group of reporters about President Obama's proposed 2015 budget.
He meant to convey that the United States shouldn't worry so much about spending limits when it comes to overseas expenditures, The Hill reported.
And he made the comments shortly before faulting Republicans for certain proposed spending cuts that hit at his department.
"There's a new isolationism," he said, The Hill reported. "We are beginning to behave like a poor nation."
He then said that some individuals don't realize the logic behind spending overseas — and all the positive returns that America gets, The Hill reported.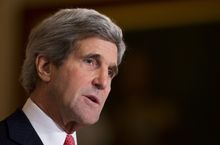 Mr. Kerry said Mr. Obama's budget includes some State Department spending decreases, due to congressional decisions and the need to keep the process moving forward.
"This is not a budget we want," he said, The Hill reported. "It's not a budget that does what we need. It was the best the president could get. It's not what he wanted."
He blamed Republicans for the cuts, saying they demanded the decreased spending, The Hill reported.