VIERA, FLA. — Livan Hernandez is everywhere.
On a chilly, windswept spring training morning in mid-February, the original face of the Washington Nationals, who started the first home opener at RFK Stadium two months before Ryan Zimmerman was even drafted, watches a minor leaguer work through his first bullpen session.
Later, he's laughing with a group of pitchers who have turned bunting practice into a contest to see who can push the most balls into a bag lying on the infield grass. It takes just a beat in the clubhouse at Space Coast Stadium before he ambles around the corner with a bat still in his hand, strolling though the room like he owns the place.
---
SEE ALSO: LOVERRO: Time for Nats to give Frank Robinson his due
---
Hernandez is 39 now. He has returned to the Nats this spring as an instructor after his first season away from professional baseball. Is this the start of a coaching or front-office career or just a way to hold onto a game that's hard to let go of? Neither Hernandez nor general manager Mike Rizzo have had much to say about that so far beyond "We'll see."
"I know I can do it," Hernandez said. "Now I get here, I can see it. I can do it one day. Something new, but I like it."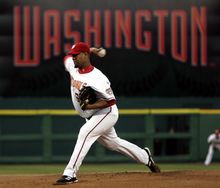 And so Hernandez is on hand in Viera to help new manager Matt Williams and his coaching staff. He watches pitchers throw bullpen sessions. He works with them as they go through fielding drills, something he was brilliant at during his own playing career. He's also quick with a tip on holding runners, not a strength of this group in the past.
Hernandez is also an ambassador of sorts. For a franchise that left much of its history behind in Montreal, Hernandez is as close as it gets to an old-timer. So he's a popular figure at spring training among fans and even former teammates, who can't help but smile when he wanders past.
"We joke we don't really know what all he does," reliever Drew Storen said. "But one of them is going around talking trash to people."
In the middle of doing just that during a bullpen session, Hernandez suddenly snaps to attention. He leans on that omnipresent bat, a Rice Krispies treat in his back pocket and a roster card in his front, as he watches non-roster invitee Gabriel Alfaro throw.
After a handful of pitches, Hernandez softly whispers a few words of encouragement in Spanish. Alfaro is a 30-year-old Venezuelan who hasn't played affiliated baseball in the United States since 2006. Hernandez then takes a more hands-on approach. He walks over to Alfaro and shows where his arm slot should be. They work on body rotation. It's a short lesson and soon an air horn blows and Hernandez watches a new group of pitchers filter in.
"Why wouldn't we use his expertise?" Williams said. "He was a thinking-man's pitcher. If we can take guys that have 97 mile per hour fastballs and get them to be a little more of a thinking-man's pitcher, imagine what they could be? In every aspect."
Storen called Hernandez one of the best athletes he's ever seen. An excellent all-around fielder — "a shortstop in a pitcher's body," Williams said — Hernandez also batted .221 with 10 home runs in 973 at-bats over 17 seasons. But those skills have been relegated to the golf course now. So Hernandez is trying to pass on some of the knowledge that helped him survive in the majors even after his fastball, which could once routinely top 95, dropped into the low 80s as he aged.
"Throughout his career I've watched a man who averaged 250 innings, went the distance, never broke down," said Nats starter Gio Gonzalez, a Miami-area native who grew up watching Hernandez pitch the Marlins to a World Series title in 1997. "It's fun to pick his brain. Everybody loves talking to Livo."
Hernandez pitched for nine organizations during his career, including five full seasons with Montreal/Washington and parts of two more. Thirty eight percent of his 519 big-league appearances came with the Nats/Expos. He retired in 2012 after a final season as a reliever with Atlanta and Milwaukee.
According to an interview with the Miami Herald last February, Hernandez started a company in Miami to represent boxers and promote fights in South Florida. But he has had financial issues in recent years, too, with a Miami-area home repossessed and sold at auction in early 2012 and a court order to repay SunTrust bank $469,387.22 over an unpaid promissory note and line of credit.