The heroin overdose that apparently led to actor Philip Seymour Hoffman's death epitomizes what U.S. officials say is an alarming trend — that the powerful street narcotic is being used by more and more Americans to shoot up in quantities and mixtures not fully understood.
"Heroin is a growing epidemic," said Rusty Payne, a spokesman for the U.S. Drug Enforcement Administration. "People need to wake up and see what's going on. People who would never be associated with a needle are now injecting heroin. You have urban and rural users, celebrities like Hoffman and the common man. Heroin touches every segment of society."
Mr. Hoffman was found dead in a bathroom of his New York City apartment Sunday with a syringe in his arm. Investigators also found glassine-type bags containing what was believed to be heroin. An autopsy was scheduled for Monday.
---
PHOTOS: Stars who left us too soon: celebrity overdoses
---
The 46-year-old actor reportedly suffered from drug addiction for some time. After 23 years of sobriety, he acknowledged in interviews that he relapsed and developed an addiction to heroin — one of hundreds of thousands of Americans to use the drug in recent years.
From 2007 to 2012, the number of Americans using heroin nearly doubled, from 373,000 to 669,000, according to the federal government's most recent National Survey on Drug Use and Health, released last fall.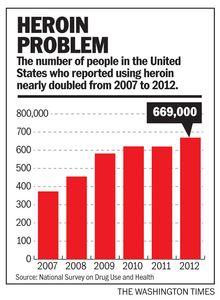 "Philip Seymour Hoffman's death really has to serve as a wake-up call to people," said Steve Pasierb, president and CEO of the Partnership at Drugfree.org. "His death isn't an anomaly. He's only representative of the larger trend we've been seeing."
---
SEE ALSO: More than 50 bags of heroin found in Philip Seymour Hoffman's apartment
---
More Americans are turning to heroin as opioid pain pills such as OxyContin, which produce the same type of high, become harder to find, Mr. Pasierb said.
Federal and local governments have been largely successful in cracking down on "pill-mills," which are illegal sources of OxyContin and other prescription opiates, and federal regulations have restricted opioid drug manufacturers from producing crushable pills so they can't be abused, leaving addicts searching for a new drug amid a dwindling street supply.
Then there's the price point. Heroin is cheap. While an 80 milligram OxyContin pill costs as much as $100 in the underground marketplace, heroin ranges from $45 to $60 for a multiple-dose supply, officials say. The narcotic is as pure and powerful as it has ever been and is being supplied in massive quantities from Colombia and Mexico, surpassing the amount of cocaine coming across the border, Mr. Payne said.
Dr. Karen Simone, a clinical toxicologist at the Northern New England Poison Center, said the number of heroin-related calls that the organization receives has doubled from 2007 to 2012.
"If you give someone prescription opiates, it's very hard for them to stop," she said. "Users need to fill that gap with something, and they look to heroin."
The drug tainted with Fentanyl, a synthetic opioid, is leading to a rash of deaths. In western Pennsylvania, including Pittsburgh, 22 people have died in recent weeks because of Fentanyl-laced heroin.
Officials in Maryland warned that the laced narcotic might be responsible for at least 37 deaths since September. State health officials said the number of heroin-related deaths increased 54 percent from 2011 to 2012, resulting in 378 fatalities.
In Virginia, law enforcement officials said they recorded 91 heroin deaths in the first nine months of 2012, up from 90 for all of 2011 and 70 for 2010.
Dr. Wilson Compton, deputy director of the National Institute on Drug Abuse, described heroin addiction as consuming the user.
"The most common and important outcome of using heroin is that it can cause an addiction where people organize their lives around the drug," Dr. Compton said. "They use it to the exclusion of all other aspects of their lives. It just becomes about scoring the next hit."
The heroin epidemic has become so pervasive that Vermont Gov. Peter Shumlin, a Democrat, spent his entire 34-minute State of the State address this year discussing a "full-blown heroin crisis."