Israelis great and small lined up to say a final goodbye Sunday to the flag-draped coffin of Ariel Sharon, as the country, the region and the rest of the world struggled to come to grips with the complicated legacy of one of Israel's most towering and divisive figures.
Mr. Sharon died early Saturday at age 85. He never regained consciousness after a massive stroke in 2006, but he remained a pivotal figure in Israel's history from his days as a foot soldier in the country's 1948 war for independence to his final years as a prime minister seeking a permanent peace in one of the world's toughest neighborhoods.
An official state memorial and a military funeral are set for Monday.
---
SEE ALSO: Biden to lead delegation to Sharon funeral
---
The Cabinet of Prime Minister Benjamin Netanyahu, who had his own complicated relationship with Mr. Sharon, observed a minute of silence as crowds of mourners gathered in the Knesset courtyard to say a final goodbye.
"He was tied to the land, he knew it had to be defended," Mr. Netanyahu said. "He understood above everything our revival is our ability to defend ourselves by ourselves."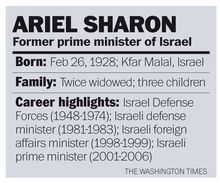 Gideon Levy, a columnist for the Israeli newspaper Ha'aretz, summed up the conflicted feelings many of his countrymen had for Mr. Sharon by writing over the weekend, "He was certainly Israel's most courageous politician. He was also its cruelest. He was the leader who used brute force more than anyone to achieve his policies. But he was also one of the few to recognize the limits of force."
---
SEE ALSO: Sen. McConnell on Ariel Sharon: Israel lost 'one of its greatest sons'
---
The funeral service will be at Mr. Sharon's ranch in southern Israel, The Associated Press reported. Vice President Joseph R. Biden, former British Prime Minister Tony Blair, Czech Prime Minister Jiri Rusnok and German Foreign Minister Frank-Walter Steinmeier are among those expected to attend.
A war hero turned politician, Mr. Sharon suffered his incapacitating stroke on the eve of what shaped up as his last great campaign: redrawing Israel's political map as the unlikely head of a centrist party determined to strike a final security settlement with the Palestinians and with the country's hostile Arab neighbors.
A blunt, bearish man with a penchant for defying superiors and enraging enemies in pursuit of his goals, Mr. Sharon proved a polarizing figure both in Israel and on the world stage in his quest for total security for the embattled Jewish state.
For critics, his battlefield heroics — in the 1956 Suez Crisis, in the 1967 Six-Day War and in the 1973 Yom Kippur War — and his lengthy political resume were overshadowed by a string of controversial and often bloody decisions. His failure as defense minister to restrain enraged Lebanese Christian militia forces in the 1982 massacre of Palestinians in the Sabra and Shatila refugee camps led many to brand him a "war criminal."
But in a military and political career that spanned nearly six decades, Mr. Sharon never apologized for his unswerving defense of Israel's security, arguing that only force and power could guarantee his country's survival and bring peace to the region.
"I believe I can make peace because I saw all the horrors of war," he said in a November 2001 Newsweek interview, just months after winning election as prime minister. "I participated in all the wars and lost my best friends in battles. I was seriously injured twice. Therefore, I understand the importance of peace better than the politicians who speak about peace but who never experienced war."
A military leader
Mr. Sharon was a son of his homeland even before Israel was founded, born Feb. 27, 1928, in the rural settlement of Kfar Malal, 15 miles north of modern-day Tel Aviv, in what was then the British-run mandate of Palestine. His parents, Shmuel and Dvora Scheinerman, were Russian immigrants active in the Zionist movement to establish a state for the world's Jews in their ancient Middle East homeland.
In the difficult early years, as Jewish settlers tried to scratch out a living in the face of violent tensions with the Arabs living there, Mr. Sharon recalled that his parents were not given to emotional outbursts but were quietly determined to see the improbably Zionist project succeed.