The winning bidder for New Jersey's Superstorm Sandy marketing contract now causing political grief for Gov. Chris Christie added jobs in its proposal that didn't appear on the company's government price list — a move that could have hindered officials trying to evaluate whether the bid was the best deal for taxpayers.
That contract is now under federal investigation, said a congressman from New Jersey who asked for the probe, questioning whether the bidder crossed the line by having Mr. Christie appear in tourism ads while running for re-election last fall.
The fine print of the contract issued by the state was clear on one point: Bidders should include rates the same or better than those in their federal pricing schedules. The requirement was designed to make sure state officials got deals as good or better than rates offered to federal agencies.
---
SEE ALSO: Defiant Christie taunts critics: Scandal won't hijack agenda
---
Mr. Christie issued another apology for his administration's woes at a closely watched State of the State address Tuesday to lawmakers in Trenton. Before outlining his agenda for the coming year, he acknowledged that revelations of the past week had "tested this administration."
"I am the governor and I am ultimately responsible for all that happens on my watch — both good and bad," said Mr. Christie, seen as a top contender for the 2016 Republican presidential nomination. "Without a doubt, we will cooperate with all appropriate inquiries to ensure this breach of trust does not happen again."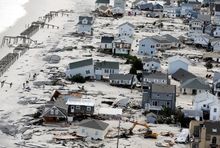 The ad controversy emerged on the heels of the furor over revelations that Christie aides engineered a massive traffic jam last fall near the George Washington Bridge to punish a Democratic mayor in Fort Lee who failed to endorse the governor.
In the "Stronger than the Storm" campaign — administered by the state and funded by the federal government — winning bidder MWW listed several jobs that appear on its federal pricing list. But it also listed numerous other jobs in its proposal that don't appear on the company's U.S. General Services Administration price schedule, documents show.
Such positions included a public relations intern for $41.44 per hour and a director of client services at $155 per hour, records show.
"It strains the limits of acceptability," said Charles Tiefer, a former deputy general counsel for the House who served on the federal Commission on Wartime Contracting.
"The point of the federal price list is to confine what's acceptable, and under this theory, they could list 'guru' as a job title and charge 1,000 bucks an hour," said Mr. Tiefer, a law professor at the University of Baltimore.
He said the company wasn't engaging in any fraudulent behavior by adding the jobs because they disclosed the positions to the government. But, he said, the situation leaves unanswered how state officials could know they were getting a good deal when jobs not listed on the company's federal price list were added to its winning state contract proposal.
Losing bidder Shannon Morris, president of the Sigma Group, said the job titles included in her company's offer also appeared on the GSA price list of its partner on the proposal, Weber Shandwick.
"We hit every element of the proposal and ultimately we lost, and the question remains, 'Why?'" Ms. Morris said in an interview.
She said she is awaiting findings by the Department of Housing and Urban Development's inspector general but is not planning on competing for any more state contracts.
"If there's outcome during this audit that points to an unfair process, I would be open to explore options that set things straight," she said.