Well somebody's happy out there: that would be Gary Johnson, the former Libertarian candidate for president who appears poised to do it all over again for 2016. Mr. Johnson will be in Texas all weekend, appearing Friday at an oyster lunch followed by a bustling "Liberty Forum" in Houston that appears to include a cast of thousands, plus his vice presidential running mate Jim Gray and Steve Munisteri, chairman of the Republican Party of Texas.
Twenty-four hours later, Mr. Johnson and company then head to San Antonio for a public dinner at a bodacious grill where the fare includes salmon-stuffed crawfish and chicken fried steak
"From never-ending revelations about the NSA's activities to the realities of health care reform setting in, I am seeing that people are truly energized to shake things up in Washington," an enthusiastic Mr. Johnson tells Inside the Beltway. "Just a few days ago, a Gallup poll found that the real political majority in America are independents, something I have been saying for a while now. I believe 2014 will be a good year for the liberty movement, and look forward to promoting both the movement and candidates who truly believe in less government and more freedom."
'I AM VERY ALARMED'
Just how bad is that wretched Obamacare sign-up site, really? The answer: bad enough to rattle one of the IT gurus who analyzed security vulnerabilities at HealthCare.gov for a report presented before Congress on Thursday.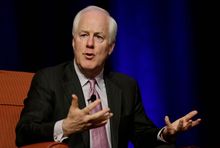 "As a security professional and a citizen, I am very alarmed at the findings. This site has flaws that put every member of the U.S. population using it at risk for identity and data theft," Kevin Johnson tells The Beltway. "It also exposes users of the site directly to attacks that would compromise their personal or organization's computers."
Mr. Johnson is CEO of Secure Ideas, a cybersecurity consultancy, and contributed to the analysis delivered to the House Science, Space and Technology Committee.
"These security findings are typical findings we see when an application has been written by developers who have not been introduced to basic security training, nor understand the importance of security within an application," he wrote in the report, which also questioned the basic functionality of the sign-up site.
"The findings disclose a wide range of issues that could cause serious harm to both HealthCare.gov as well as any individual using the application. These flaws are not even complex problems that would require advanced security knowledge to detect," Mr. Johnson said.
THE WEINSTEIN BACKLASH
"Hollywood's gun hypocrisy."
— Fox News headline pointing out that film kingpin Harvey Weinstein has produced multiple movies such as "Pulp Fiction," "Rambo" and "Kill Bill" that use sensational gun violence for dramatic effect. Mr. Weinstein has vowed to produce a major feature film vilifying the National Rifle Association, as reported by Washington Times editorial writer Emily Miller and other news organizations.
"I'm gonna make a movie with Meryl Streep and we're gonna take this issue head-on, and they're gonna wish they weren't alive after I'm done with them," Mr. Weinstein told talk radio host Howard Stern in an interview earlier this week.
"He's owes a portion of his substantial fortune to guns," points out Fox News host Greg Gutfeld.
CHRIS, RICK AND DEBBIE