It's the battle of billionaires.
Sheldon Adelson, the Las Vegas casino magnate and GOP megadonor, is raising the stakes in the battle over online gambling by throwing his financial muscle behind a national campaign to end Internet gambling altogether.
That puts him at odds with a number of fellow billionaires, including Donald Trump, the New York real estate mogul who recently partnered with Ultimate Gaming to offer online wagering in New Jersey.
Mr. Adelson's crusade also pits him against Leon Black, Josh Harris, Marc Rowan and David Bonderman, the hedge fund kingpins who are hoping that the profits from online gambling can save their investment in Caesars Entertainment, which is deeply in debt.
More billionaires may be entering the fray: Forbes reported this month that billionaire investors George Soros, John Paulson and Leon Cooperman have stakes in Caesars.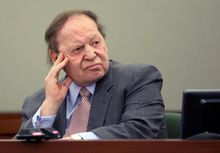 Mr. Adelson has said he will spend whatever it takes to emerge victorious — welcome news for online gambling opponents, who say the deep-pocketed 80-year-old will help counter the casinos, cash-strapped states and Wall Street bigwigs eager to create what could be a multibillion-dollar industry.
"I think it changes the landscape in that it puts significant financial resources [behind] the independent evidence that shows Internet gambling is highly predatory, exploits kids and literally is impossible to regulate at all," said Les Bernal, national director of Stop Predatory Gambling. "I think [Mr. Adelson] has put significant resources into putting a spotlight on what it means to have a Las Vegas casino in every home, office and every smartphone in the country."
The fight has spilled into big-time politics, with Capitol Hill and key state governors taking sides.
Mr. Adelson finds himself at odds with New Jersey Gov. Chris Christie, whose state began allowing online gambling last year and last week announced that online operators posted $8.4 million in earnings through the first five weeks. That was well below the pace needed to meet casinos' expectations of $1.2 billion in projected revenue this fiscal year — though the Borgata casino, owned by MGM Resorts International and Boyd Gaming, reported $3.75 million in online gambling revenue, and Caesars Interactive reported nearly $2.4 million in revenue.
Both sides say the profits would increase dramatically if Congress enacts legislation empowering the federal government to license and regulate Internet gambling nationwide.
Legal battle
Online gambling was illegal until 2011, when the Justice Department issued an opinion saying that the Wire Act of 1961 banned gambling only on sporting events, but didn't bar Internet games.
States are allowed to license online gambling, but only within their own borders or those of other states that also allow it.
Supporters want the federal government to license online gambling on a nationwide basis. Opponents want to restore the original, restrictive interpretation of the Wire Act.
"Make no mistake: Online gaming is here to stay," Geoff Freeman, president of the American Gaming Association, told a House subcommittee last month. "The government cannot put the Internet back in the bottle. As we saw with Blockbuster and the advent of online movies, industries must adapt to consumers or be left in their wake."