After a rough 2013, Americans are entering the new year with a decidedly negative view of the direction of the country and the prospects for elected officials to turn things in government around in 2014.
Nearly two-thirds of Americans say the country is headed in the wrong direction, and 70 percent aren't confident the federal government will make progress on important problems and issues in the country in 2014, according to the new Associated Press-GfK survey.
The public would most like the government to tackle health care reform, unemployment, jobs, the economy and the federal debt in 2014, ahead of issues such as immigration, education and taxes.
But those polled expressed little confidence the government would be able to do so effectively: 63 percent say things in the country are headed in the wrong direction, compared to 35 percent who think things are headed in the right direction.
Further, 30 percent of those polled said they were "not at all confident" in the ability of the federal government to make progress on such important issues and problems facing the country this year and 40 percent were "not very confident." Just 23 percent are "moderately confident" and 4 percent are "very" or "extremely" confident.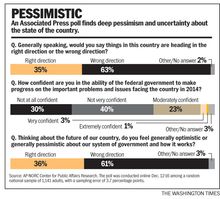 The survey of 1,141 American adults was conducted from Dec. 12-16 and has a margin of error of 3.7 percentage points.
About half of those polled say their standard of living is better than their parents' was at the same age, while a quarter say it's about the same and a quarter say it's worse.
Comparing life now to the early 1970s, 20 percent say technology has been the biggest change in everyday life in the country — the most popular answer on a list that included factors such as economic, political, and moral/religious/social changes.
But 54 percent say life in America has gotten worse since that time, compared to 29 percent who say it's gotten better and 15 percent who say it's stayed about the same.
Further, a majority of respondents also say they were generally pessimistic about all of the following: the U.S. system of government and how well it works; the way American leaders are chosen; the opportunity for most people to achieve the American dream; America's role as a global leader in the world; and the ability of our country to produce strong leaders.
In addition to Americans' markedly pessimistic overall attitudes about the upcoming year, the poll also reveals a sharp divide on the role the public would like to see the government play in society.
Given two options, 50 percent of the public sided with the attitude of "the less government the better," compared to 48 percent who said that "there are more things that government should be doing."
In a separate question, 57 percent more closely align with the statement that "we need a strong government to handle today's complex economic problems," while 41 percent say "the free market can handle these problems without government being involved."