There's Republican reinforcement for the March for Life at the National Mall on Wednesday, offering a boost for pro-lifers and potential push back against liberal rhetoric claiming the GOP is waging a "war against women." Republican National Committee Chairman Reince Priebus delayed the start of the organization's winter meeting so members could attend the march. And of interest: delegates will consider a new resolution demanding that the organization should not support a "strategy of silence" when it comes to Republican candidates and life issues.
"Candidates who stay silent on pro-life issues do not identify with key voters, fail to alert voters to Democrats' extreme pro-abortion stances, and have lost their elections," the resolution states. "Staying silent fails because this strategy allows Democrats to define the Republican brand and prevents the Republican Party from taking advantage of widely supported pro-life positions: to attract traditional and new values voters."
Indeed, Democrats are often very deft at both skewing the brand and influencing the national media.
"Some Republican candidates have adopted a strategy of deflection and silence when attacked with 'War on Women' rhetoric, and we've now seen that silence is a losing strategy," says delegate Ellen Barrosse, who authored the resolution and is a board member of American Principles in Action, a nonprofit group.
"If Republican candidates want to connect with key voters, such as women, Hispanics, and young people. They need to fight back on the life issue when attacked," she adds.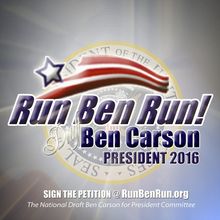 "This resolution, paired with the news that the RNC will participate in the 41st annual March for Life in Washington, D.C., is a powerful step in the right direction for the Republican Party," says Frank Cannon, president of American Principles in Action. "Abortion is one of the most contentious issues of our time, but the majority of voters stand with the Republican Party on life."
ABORTION BELIEFS: SOME NUMBERS
• 57 percent of Americans say abortion is "morally wrong" (CNN poll of 1,015 U.S. adults conducted Jan. 3-5).
• 49 percent of likely U.S. voters believe there should be a waiting period before a woman can get an abortion; 70 percent of Republicans and 34 percent of Democrats agree (Rasmussen Reports survey of 1,000 likely U.S. voters conducted Jan. 2).
• 48 percent of Americans say they are "pro-life," 45 percent are "pro-choice" (Gallup poll of 1,535 adults conducted May 2-7, 2013).
THE PERSISTENT CALL FOR BEN CARSON
They insist he is a "citizen statesman," a trustworthy, Reaganesque communicator and a "sure winner." That would be the National Draft Ben Carson for President Committee, which has signed on for some serious signage. The Virginia-based interest group has launched a spate of electronic billboards in Des Moines, Iowa, and Baltimore to make their point about the retired pediatric neurosurgeon who drew national attention following a speech he gave less than a year ago at the National Prayer Breakfast.
Among the persuasive new messages blinking at passersby: "To Heal Our Country: Run, Ben, Run," and "Sick of Politics As Usual," this according to John Philip Sousa IV, chairman of the organization.
Dr. Carson — who contributes a weekly column to The Washington Times — is not affiliated with the group. But he's allowed there is room in his life for politics, should the call come. More than 200,000 have signed the group's petition that they are "clamoring" for him to consider a White House run.
THE WENDY DAVIS MEDIA