New EPA Administrator Gina McCarthy was aware as far back as 2009 that one of her employees claimed to be working for the CIA while still collecting his EPA paycheck, but didn't stop it until several years later, according to the man who perpetrated the fraud.
The deposition of John C. Beale, released Wednesday by the House Oversight and Government Reform Committee, contrasts with the Environmental Protection Agency's claims that it was Ms. McCarthy who exposed the fraud and helped oust Beale.
Beale says he resigned last year after Ms. McCarthy and others began signaling that they had questions, but he said she never asked him to resign, nor did she fire him.
---
SEE ALSO: EPA official sentenced for bizarre 'spy' ruse
---
Indeed, Ms. McCarthy even attended an earlier retirement party for Beale in 2011 but didn't raise questions even after he continued to collect paychecks from the agency while claiming to be absent from work under the auspices of the CIA, the disgraced former employee told investigators.
Ms. McCarthy did halt a retention bonus last February, but he continued to receive his paychecks for several more months, until he retired.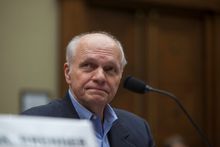 Beale's case has astounded Washington and raises major questions about internal checks at the Environmental Protection Agency. The details of Beale's claims about working for the CIA and needing time off test the bounds of credulity.
But he said Ms. McCarthy shouldn't be blamed for failing to spot his fraud and that it was relatively easy to pull off his scam.
"I had earned a reputation for being very competent, very skillful, very truthful and very honest, and I betrayed all of that and then lied to people about it and abused that trust, and that's not the kind of thing that becomes obvious right away," he said.
The EPA didn't return a request for comment Wednesday but previously told reporters that the fraud "was uncovered" by Ms. McCarthy after years of deception that spanned Democratic and Republican administrations.
"John C. Beale criminally defrauded the EPA for nearly 20 years by convincing his managers that he was also working for the CIA," the agency said. "Jeffrey Holmstead, who managed the EPA's air office during the George W. Bush administration, was the first senior-level official misled by Mr. Beale. Every subsequent senior manager of that office was told that Mr. Beale was in fact working for the CIA, a narrative that was not questioned until November of 2012. After those questions were brought forward by Administrator McCarthy, and once the EPA was not able to confirm any relationship between Mr. Beale and the CIA, the agency promptly referred this matter to our Office of Inspector General."
In testimony that runs more than 250 pages, and that was released by Republicans and Democrats on the investigative committee, Beale described the extent of his deception and how easy it was to fool his colleagues and superiors.
His paid time off, when he supposedly was working for the CIA, totaled 2½ years. Yet he was not questioned about his schedule and was even given a recurring retention bonus by the agency.
According to his deposition, which he gave to House investigators a day after he was sentenced to 32 months in prison in a Dec. 18 court appearance, Beale started at the EPA after a friend recruited him, despite his lack of environmental experience. The EPA executive who first talked to him about a job, Rob Brenner, who was a friend and co-owned a vacation rental property with Mr. Beale, said it wouldn't be a problem.
"We agreed that I'm a fast learner and I can pick that stuff up," Mr. Beale told investigators.
Rep. Darrell E. Issa, California Republican and chairman of the oversight committee, called the scam "an egregious example of fraud on the highest levels of management at the EPA."