Republicans are moving this week to confront some of their biggest problems from 2012, including changing their primary and convention schedules to gain a fundraising advantage and highlighting rising women within their party — a demographic they struggled with in the last presidential election.
The rules change, which the Republican National Committee is expected to ratify Friday, would move the party's presidential nominating convention to the end of June, two months earlier than the past few conventions. The changes also would try to get states to stretch out their primaries and caucuses, which would preserve Iowa, New Hampshire and South Carolina as the earliest contests and give voters in other states more time to look over the candidates.
"Our party understands we need to help our candidate be in the best position possible for the fall general election — by allowing all the contenders to compete in a nomination contest with a clear beginning and end date," said Colorado RNC member Ryan Call.
---
SEE ALSO: Mike Huckabee calls for more Republican unity, less focus on social issues
---
Stung by presidential nominee Mitt Romney's defeat in 2012, in a race many party strategists thought was winnable, Republicans have vowed to learn lessons and change their operations.
Some of the changes are structural, including the timing of the primaries and conventions, while others involve messaging.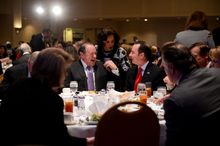 In particular, the GOP said Mr. Romney's campaign failed to reach minority voters or women, and President Obama capitalized, winning a second term behind a campaign that argued Republicans were engaged in a "war on women" and were hostile to Hispanics' key issues.
"The fact is that the Republicans don't have a war on women," former Arkansas Gov. Mike Huckabee said at a lunchtime speech at the RNC's winter meeting in Washington. "They have a war for women — for them to be empowered, for them to be something other than victims of their gender. Women I know are outraged that Democrats think that women are nothing more than helpless and hopeless creatures whose only goal in life is to have the government provide for their birth control medication."
Mr. Huckabee said Democratic policies imply that women "cannot control their libido or their reproductive system without the help of the government."
Democrats mocked the GOP's outreach effort.
"Mike Huckabee has no idea what he's talking about. If this is the GOP rebrand a year later, then all they've gotten is a year older," said Democratic National Committee Chairwoman Debbie Wasserman Schultz.
But Republicans made clear that they would make major efforts to reach female voters.
The party's elected congressional leaders announced Thursday that Rep. Cathy McMorris Rodgers, chairwoman of the House Republican Conference, will deliver the official Republican response to Mr. Obama's State of the Union address next week.
RNC Chairman Reince Priebus hosted a "rising stars" panel Thursday that featured only women — five conservatives from across the country who said the party must stick to its pro-life principles, promote a message of economic prosperity for all and embrace immigration reform.
One of the women, conservative activist Alison Howard, said Democrats make a mistake by trying to narrow female voters' concerns to abortion, leaving the GOP an opportunity to talk about a whole spectrum of other issues.
"Women make the majority of the economic decisions in their households and right now are making a majority of their health care decision as well," she said. "I think it is most important for conservatives to talk to women as the smart, intelligent, purpose-driven people that we are. We care about so much more than the left presents to us."