NEWSMAKER INTERVIEW:
If elected U.S. senator from Virginia this November, former GOP Chairman Ed Gillespie vows he will oppose any policies that expand welfare, federal spending and the national debt — even if proposed by a Republican president.
As Republican National Committee chairman and then as a senior White House adviser to President George W. Bush, Mr. Gillespie, 52, did not publicly oppose the explosion in federal spending that Mr. Bush's policies helped set off.
---
SEE ALSO: Ed Gillespie — A challenger with an exhaustive political resume
---
But now taking on popular Democratic incumbent Sen. Mark Warner, Mr. Gillespie told The Washington Times that he is prepared to carve his own policy path as he makes his first bid for office.
"This is the first time I'll be advocating Ed Gillespie's policies, what I believe, the things that I want to do as an elected official if I were in office," he said in an interview Friday, where he touched on a variety of topics, including the economy, immigration and his opposition to same-sex marriage.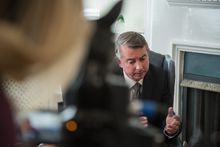 Asked what would happen if he were in the Senate and a Republican president embarked on another spending spree, Mr. Gillespie made clear his own position.
"I'm not in favor of higher taxes, more debt, more spending," he said.
Reminded that almost every Republican ever elected has uttered the same allegiance, Mr. Gillespie said, "Yes but I'll stand up for those principles."
When pushed as to whether that means he would go against a Republican president, he answered, "Yes, absolutely."
The consummate GOP operative and loyalist, Mr. Gillespie faces a daunting task: Mr. Warner holds a 20 percentage point lead in the polls in a purple state where seven out of 10 voters have never heard of Mr. Gillespie.
His political resume is impressive, but he knows he has spent the first half of his life dancing to the tunes of various bosses, doing their bidding, pushing their agendas and helping win elections for Republicans with wide-ranging philosophies.
He said he is proud that he used to zip through the White House gates as counselor to Mr. Bush, who wound up highly unpopular among many conservatives but who also was, nonetheless, the chief "decider" in his administration.
Mr. Gillespie, seated in his campaign office on the second floor of an Old Town Alexandria town house, declined to say directly whether he would have spoken up against Mr. Bush's policies — on spending and foreign wars — had he been in the Senate at the time.
But he left room for Virginians to divine his beliefs while remaining loyal to the 43rd president.
… "I'm proud today to call him a friend and I think that history's going to be good to President Bush," he said. "But, I'm running, again, on my policies and what I believe. And I look forward to putting that out to the voters of Virginia and to talking to my fellow Republicans in Virginia about that. I'm a little old school, Ralph, as I think you know. I don't believe that it's appropriate for someone who served as an aide to then go out and say, 'Boy, you know, I wasn't in on that.' That's not who I am. I think loyalty is important."