A 19-year-old College Park man who fatally shot two skate store employees at a Maryland mall before killing himself kept a journal indicating "some general unhappiness with his life," police said, but authorities have yet to find a motive behind the deadly attack.
Howard County Police Chief William J. McMahon said Darion Marcus Aguilar was behind Saturday morning's shooting at the Zumiez store on the upper level of The Mall in Columbia. But despite early and persistent reports the shooting stemmed from a romantic relationship, the chief called the reason behind the killings an "open question."
"We have not been able to verify any type of relationship at this point between him and either of our victims," he said.
Police late Saturday afternoon identified the store employees killed in the shooting as Brianna Benlolo, 21, of College Park and Tyler Johnson, 25, of Ellicott City. Ms. Benlolo had a 2-year-old child and was an assistant manager at the Zumiez — a store that sells skateboards, clothes and accessories.
A visibly agitated Chief McMahon reiterated at an evening news conference Sunday that police are not ruling out the possibility the shooting was domestic-related but have found nothing to make them believe that. He said the continued speculation is becoming "very frustrating for the families of our victims to continue to hear this."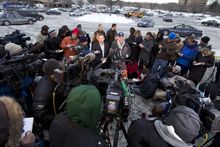 The chief said Aguilar, who lived with his mother about a half-mile from where Ms. Benlolo lived, had no adult criminal record and left no note behind to explain his actions.
Chief McMahon said officers searched Aguilar's house late Saturday and early Sunday and took ammunition, a computer and some documents they hoped might provide insight on the shootings. Among the documents was a journal that authorities are studying for clues to the attack.
"That's something we're going to continue to work through tonight and in the days ahead," Chief McMahon said.
Prince George's County police on Sunday issued a statement saying Aguilar's mother called them Saturday about two hours after the shooting to report her son missing. Police said an officer went to the home at about 5 p.m., talked with Aguilar's mother and saw his journal.
"The portion of the journal that he read made him concerned for the missing person's safety," police said. But by that point, the shooting had already occurred.
Chief McMahon said Sunday morning that Aguilar was not immediately identified because he had "a lot of ammunition on him," causing police to take precautions before approaching his body.
"We were concerned about whether he had booby trapped himself," he said, adding that officials sent in a robot to examine the body and found "not very sophisticated" attempts at bombs that were made with flash powder and homemade items.
"As you know, because of those found devices that we were able to render safe, we did have concerns about, 'Did he leave anything else in the mall?' " Chief McMahon said, adding that 20 K-9 teams were deployed to search the mall. "We did not find any indication of any more explosive devices."
The weapon used in the shooting was a 12-gauge Mossburg shotgun legally purchased by Aguilar in December in Montgomery County, police said.
Chief McMahon couldn't say whether there appeared to be any type of altercation or exchange of words before Aguilar opened fire on his victims.