A string of deadly accidents and safety scares in recent months involving rail cars carrying crude oil is vividly demonstrating the dangers of relying on trains to transport the growing volumes of fuel being produced in North America, while giving ammunition to those who say the stalled Keystone XL and other pipelines are preferred ways to safely funnel fuel to market.
With more than 10 percent of the nation's fuel being transported daily by rail through densely populated cities such as Philadelphia and Chicago, and a rash of incidents just in the past few months in Alabama, North Dakota, Pennsylvania and elsewhere, the multiplying safety threats are raising worries in Congress.
U.S. and Canadian transportation safety agencies last week came together to warn of the rising risk of a "major loss of life" from accidents. Federal data show that more than 1 million gallons of crude oil spilled in railroad accidents last year, dwarfing the total from spills in the previous four decades. Those figures do not even include the gigantic spill of 1.5 million gallons from a runaway train in Quebec in July that touched off an oil firebomb that incinerated much of the small town of Lac-Megantic and killed 47 people.
---
PHOTOS: Spike in rail accidents fuel push to build Keystone XL pipeline
---
Environmental groups contend that pipelines are not safe, but the occasional breaks and spills have been mostly in unpopulated areas. Rail transport, however, has required the evacuations of entire towns and put thousands of people in heavily populated areas at risk.
"The continuing series of rail accidents reminds us that in evaluating whether to build more pipelines, human safety should be a paramount consideration," said Diana Furchtgott-Roth, an economist at the Manhattan Institute. "Road and rail have higher rates of serious incidents, injuries and fatalities than pipelines."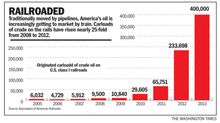 She said the oil industry has had to turn to rail shipments because not enough pipelines in the U.S. run from north to south or from the heartland to the west and east to deliver new sources of crude where it is needed. Regulatory approval of pipelines — in particular the massive Canada-to-Texas Keystone XL — has been slow, and such projects take billions of dollars and years to build. Rail depots and track extensions, by comparison, can be built more cheaply within months. As a result, rail transport of oil soared by 30 percent last year and is up 25-fold since 2008.
---
SEE ALSO: Accidents involving trains transporting crude oil
---
The Bakken epicenter
Many of the more serious rail incidents recently — including the disaster in Quebec and a derailment and massive explosion in North Dakota last month — stemmed from inadequate infrastructure. North Dakota's Bakken formation is the epicenter of the shale oil revolution that is providing the country with high-quality crude.
Without pipelines, North Dakota has had to flare off much of the valuable natural gas found in the Bakken wells, and the lack of pipelines leading east or west has forced producers to ship two-thirds of their oil by rail to urban destinations on the coasts.
This year, the share of oil leaving North Dakota by rail is slated to reach 90 percent, and some trains extend more than a mile and 100 cars in length.
Heightening the danger, federal regulators have determined, is that Bakken's light crude is more flammable than other heavy crudes.
The Keystone XL pipeline, which President Obama has not approved for years in the face of intense opposition from environmentalists, is designed primarily to funnel heavy crude from Canada's Alberta oil sands to the Gulf Coast for refining. But it also would include an extension to carry about 100,000 barrels a day of Bakken crude. Like most other pipelines, it would follow a route that avoids heavily populated areas.
A State Department report last year concluded that if the Keystone pipeline is not approved, much of Canada's crude will find its way to market by rail, multiplying the threat to human safety in thousands of towns and major cities along the tracks.
Keystone is far from the only oil pipeline in demand. Ms. Furchtgott-Roth said the nation needs a "new generation of pipelines" to carry oil and natural gas from the American heartland and Canada to the Gulf Coast.
Pipelines also are needed to deliver shale gas from sources in Pennsylvania, Ohio, Alabama and North Dakota to the rest of the country, she said.