Longtime country music fan Jay Leno is putting a Nashville spin on his last days at the helm of NBC's "The Tonight Show."
Lyle Lovett will become the show's most frequent musical guest when he appears on Feb. 4. Blake Shelton is set to perform the next day, and the reclusive Garth Brooks, making his second visit in recent weeks, will join Mr. Leno for his final show on Feb. 6.
This week's "The Tonight Show" lineup also has a touch of country, with Dwight Yoakam scheduled for Tuesday and Jennifer Nettles taking the stage Wednesday.
With his blue-collar comic sensibilities and legendary work ethic, Mr. Leno has always had more in common with the red-state demographics of country music than other late-night hosts, like David Letterman or Jimmy Fallon, Mr. Leno's successor.
Mr. Leno, who has hosted "The Tonight Show" for 22 years, repeatedly has said he's not a Republican. But he was mercilessly lampooning Obamacare long before his late-night brethren, and his show has been the one stop on the circuit where Republicans like George W. Bush and John A. Boehner have felt they would get a fair shake.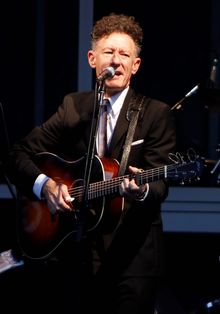 It's also where Nashville's up-and-comers and bona fide stars feel welcome, and many in the country music community have made the trek to Mr. Leno's couch in recent weeks to pay their respects. Comedian Larry the Cable Guy showed up earlier this month with an elaborate cellophane-wrapped gift basket and graciously thanked Mr. Leno for all his help over the years — and then asked, deadpan, if Mr. Leno could get the oversized basket to Mr. Fallon.
"Never too soon to start sucking up," Larry explained.
It was a good joke, but there was a kernel of truth there, too: Mr. Leno has been so solid for so long, it's easy to take him for granted.
But there are people in that red-state demographic — country music fans, in particular — who are going to miss "The Tonight Show" host when he's gone.
All the late-night shows occasionally showcase country in their musical segments, but nobody — nobody — comes close to "The Tonight Show" in the number and variety of country acts booked.
I did a little research over the weekend and came up with the number 50: About 50 country acts — give or take a couple, depending on whether you count folks like Kelly Clarkson and Sheryl Crow as "country" — appeared on the Leno show in 2013.
During the same period, CBS' "The Late Show with David Letterman" had 28 or so, if you toss genre-jumper John Mayer and bluegrass aficionado Steve Martin into the mix (I did).
Mr. Fallon, who takes over "The Tonight Show" on Feb. 17, has said he's a big Nashville fan, but it's much harder for country acts — especially newcomers — to get booked on his "Late Night" show. Only about 20 country acts made the cut in 2013. That number goes up to 28 or so if you count acts that appeared multiple times such as The Avett Brothers, the alt-country faves who played the show at least four times, according to my research.
ABC's Jimmy Kimmel booked about 15 country acts the entire year. I couldn't remember ever seeing a country act on Conan O'Brien's show on TBS, so I didn't bother to count his numbers.
The point is, Mr. Leno has put out a welcome mat for Nashville stars.