When it comes to security at the Olympics, freestyle skier Ashley Caldwell figures it's best to let someone else do the worrying.
She insists she is not.
"I guess maybe if I had more time on my hands, I would be," said Caldwell, who is from Ashburn, Va. "But I'm trying to go do three flips in the air, and that's scary enough."
---
PHOTOS: Olympic athletes place their trust in Putin
---
While the reasons may be different, the Olympians with local ties seem to be taking Caldwell's approach to the security issue. It's for someone else to handle.
In Putin, they seem to trust.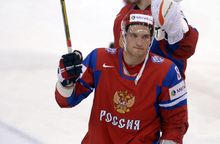 Washington Capitals star Alex Ovechkin, who will represent Russia in the Olympic hockey tournament, is proud that his country is hosting the games and is confident that Russian President Vladimir Putin will keep Sochi safe.
---
SEE ALSO: Sochi Olympics the 'most dangerous' games ever: ex-CIA boss
---
"Because I think our President Putin said we have some secret stuff up there," Ovechkin said.
Ovechkin's Capitals teammate Nicklas Backstrom will be playing for Sweden at the Olympics. His girlfriend, Liza Berg, and infant daughter, Haley, will watch from Sweden but not because of security concerns. Haley is simply not at a good age for that kind of travel. Backstrom's parents and brother will be in Sochi.
"Every [Olympics] is a target, a lot of people in the same place. But I don't think Putin will let that happen," Backstrom said.
That there might be some concern is not just idle worrying.
Three years ago, the U.S. speedskating team and support personnel flew into Moscow the same day Domodedovo, one of the city's busiest airports, was attacked by a suicide bomber. The incident resulted in more than 30 deaths. The speedskating team was flying into another airport, 40 miles away.
"We didn't find out about anything until we landed," U.S. team coach Ryan Shimabukuro said at the time, according to the U.S. speedskating's website, as reported by ABCnews.com. "I was watching the Russian news broadcasts. The pictures they showed were graphic: People dead on the ground. Bloody floors. Bodies being brought on stretchers. Crews trying to assist the wounded. It was a chilling experience."
Sochi is a resort town on the Black Sea. Like all other Olympic venues, it presents a tempting target for domestic and international terrorists. On Dec. 29 and 30, a pair of train and bus bombings killed 34 people in the Russian city of Volgograd, 600 miles north of Sochi.
The Olympic city is about that same distance from the turbulent Russian republics of Chechnya and Dagestan in the Caucasus region to the east. Insurgent groups based there have used terrorism to help fuel instability and push for independent Islamic states.
The Associated Press reports that Russian officials are looking for a trio of "black widows," women who may seek to avenge their husbands' deaths with suicide bombings. One is believed to be in Sochi.