Some members of the "1 percent" in America fear President Obama's new laser-like focus on income inequality could devolve into another round of class warfare, but a top White House official on Friday said the nation's wealthiest ought to calm down.
"One can just take a look at the facts, and you look at the tax rate on the top 1 percent, for example, and even with the higher tax rates … it's still lower than it was at the beginning of the 1990s," said Jason Furman, chairman of the White House Council of Economic Advisors, at a Washington breakfast hosted by the Christian Science Monitor. "I think some [of the concern] is just hyperventilation around not paying attention to specific facts and data. No one here is talking about 100 percent tax rates or 70 percent rates."
But the president's pledge to address growing income inequality — which has worsened since he came to office in 2009 — has some rich Americans fearful of what's to come.
Noted venture capitalist Thomas Perkins wrote a letter to the Wall Street Journal earlier this week in which he talked of a "rising tide of hatred of the successful one percent." Politico on Thursday quoted an anonymous member of the 1 percent as saying the wealthy fear all-out class warfare may be on the horizon.
"You have a bunch of people who see conspiracies everywhere and believe that this inequality issue will quickly turn into serious class warfare," said the individual. "They don't believe inequality is bad and believe the only way to deal with it is to allow entrepreneurs to have even fewer shackles."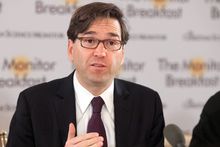 To combat the growing gap between the 1 percent and 99 percent, the administration is pushing for a hike to the nation's minimum wage and other steps. Earlier this week, the president took executive action to institute a minimum wage increase from $7.25 to $10.10, established new government-backed retirement accounts for all workers to give them greater savings and financial security, and has promised to take other steps without Congress as part of his so-called "year of action."
Even though this president's relationship with the wealthy and the business community has often been rocky, Mr. Furman suggested that the rich will be willing to take part in the broader effort to tackle income inequality.
"I think there are an awful lot of high-income, middle-income, moderate-income households in this country who are part of the discussion about what we can do to make sure we have, for example, equality of opportunity," he said.
In a wide-ranging discussion, Mr. Furman also called on Congress to pass a clean debt-limit hike. The nation is expected to hit its spending threshold in about a week, and Republicans have suggested they'll be looking for further spending cuts in exchange for an increase.
Mr. Furman said lawmakers ought to raise the limit immediately and "without drama or delay."
"I really see no reason why Congress wouldn't act and I'm very much hoping they can capitalize on the momentum we have in our economy and the greater fiscal certainty we're creating to take care of the debt limit," he said.