New York Giants defensive coordinator Perry Fewell was the latest candidate to interview with the Washington Redskins for their coaching vacancy when he spoke to team officials at Redskins Park on Monday.
His interview began what is likely to be a busy week for the team. The Redskins, according to a variety of reports, reached out to five other candidates on Monday to gauge their interest in interviewing: Cincinnati Bengals offensive coordinator Jay Gruden and defensive coordinator Mike Zimmer, San Francisco 49ers offensive coordinator Greg Roman and defensive coordinator Vic Fangio and San Diego Chargers offensive coordinator Ken Whisenhunt.
The Redskins are also reportedly seeking out Vanderbilt coach James Franklin, formerly Maryland's offensive coordinator, for an interview. Add those six potential candidates to Fewell and the four who interviewed last week and the Redskins have identified 11 individuals who could potentially replace Mike Shanahan, who was fired on Dec. 30 after four seasons.
Because of the Bengals' loss to the Chargers in the wild-card round of the AFC playoffs on Sunday, Gruden and Zimmer will be free to interview at any time. It's unclear whether Roman, Fangio and Whisenhunt will interview this week, even though their teams are still playing in the postseason. Chargers coach Mike McCoy told Cincinnati-area reporters on a conference call last week in advance of the team's first playoff game that he wouldn't prevent Whisenhunt from interviewing this week if waiting would cost him a coaching opportunity.
Gruden and Whisenhunt may be the two biggest names yet to interview with the Redskins. Gruden, the brother of former Tampa Bay Buccaneers and Oakland Raiders coach Jon Gruden, now an ESPN analyst, has been with the Bengals for the past three seasons. He has ties to Redskins general manager Bruce Allen from their time together with the Buccaneers from 2004 through 2008, when he was an offensive assistant under his brother.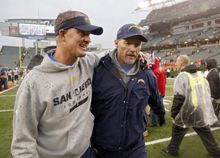 Whisenhunt, a former Redskins tight end, was the Arizona Cardinals' coach from 2007 through 2012 and guided the team to an appearance in Super Bowl XLIII in 2008. He is reportedly the preferred candidate of the Detroit Lions, one of four other teams who have not yet filled their coaching vacancies.
---
SEE ALSO: LOVERRO: Remembering an American original in former Redskin John Wilbur
---
Fewell, 51, visited Ashburn to speak with Allen, director of player personnel Morocco Brown and director of pro personnel Scott Campbell, which has become the standard for interviews held at Redskins Park. He has not been a full-time head coach since entering the league in 1998, but was the Buffalo Bills' interim coach in 2009, when he finished 3-4 over the final seven games in place of Dick Jauron.
He moved on to the Giants the following season, replacing Bill Sheridan, and had the seventh-ranked defense in 2010, then helped the Giants win Super Bowl XLVI the next year despite the 27th-ranked defense. The team took another step back last season, ranking 31st, before finishing with the eighth-ranked unit this year.
Washington has interviewed Seattle Seahawks offensive coordinator Darrell Bevell, Dallas Cowboys special teams coordinator Rich Bisaccia, Carolina Panthers defensive coordinator Sean McDermott and Baltimore Ravens offensive coordinator Jim Caldwell since Wednesday.