One of China's most powerful security leaders is facing corruption charges, according to China analysts inside and outside the government.
The fate of Zhou Yongkang, a former Politburo Standing Committee member and until recently China's security czar, is being watched closely by U.S. intelligence agencies concerned about the Beijing regime's stability.
Expectations are growing that Mr. Zhou will be charged with illegal activities related to his financial dealings, namely taking bribes. But analysts say the corruption charges would mask much more serous political charges, including high crimes such as "factionalism" and attempting to engineer a takeover within the Communist Party leadership.
---
SEE ALSO: Iraq War veterans mourn losses of hard-fought gains in Fallujah
---
In China, the targeting of such high-level officials is dubbed "hunting tigers," as opposed to lower-level corruption among "flies."
Before he retired in 2012, Mr. Zhou was one of China's most powerful leaders as part of the nine-member Standing Committee, the collective dictatorship that rules China.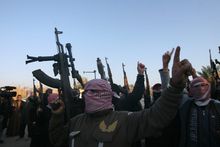 The new Standing Committee has no security chief. China announced plans to create a National Security Council-like structure at the top ranks of the party.
---
SEE ALSO: Inside the Ring: Senate to block ICBM cuts
---
Reports of a corruption probe of Mr. Zhou have circulated among China's elite for several months. A clear indicator of the matter's sensitivity is Beijing's tightened censorship on the Internet. In recent weeks, all searches for Zhou Yongkang have been blocked on major Chinese search engines.
The political noose tightened around Mr. Zhou on Dec. 19. That was when authorities announced that one of his close aides, current Deputy Minister of Public Security Li Dongsheng, was under investigation for what authorities said were "serious violations of party rules and state laws." Mr. Li is one of China's most hard-line security chiefs and a leading figure behind the nationwide crackdown on domestic dissent.
"Everyone is waiting for the other shoe to drop," one government analyst said of Mr. Zhou's possible arrest.
Among the sensational reports about Mr. Zhou are that he has been placed under house arrest, and that he took bribes to arrange the release of a murderer facing execution.
Others say Mr. Zhou is suspected of orchestrating The New York Times report published in October 2012 that revealed large-scale financial abuse by the family of Wen Jiabao. Under Mr. Wen's premiership, his family amassed a fortune worth $2.7 billion. The leak angered Chinese leaders, who have blocked or threatened to block visas for reporters for The Times and other U.S. news outlets in retaliation.
The most explosive reports about Mr. Zhou, however, are political. Published reports in China since November claimed that Mr. Zhou tried to carry out a coup d'etat against President Xi Jinping. One report said investigators are looking into whether Mr. Zhou plotted two assassinations, a failed attempt against Mr. Xi and a successful hit in 2012 against Lt. Gen. Yuan Zhibo, deputy commander of the Chengdu military region, whose death was announced in May 2012.
The coup rumors were bolstered after Mr. Xi disappeared from public view for several weeks in the fall of 2012. During the disappearance, Mr. Xi skipped a meeting with Secretary of State Hillary Rodham Clinton, further fueling the rumors.
Two other "tigers" under investigation and who may be linked to Mr. Zhou include Li Chingxi, a senior official in Sichuan province, and Yang Gang, deputy director of the Committee for Economic Affairs of the National Committee of the Chinese People's Political Consultative Conference, Beijing's mock parliament.
Mr. Zhou also has close ties to China's oil sector, having served as head of the state-run China National Petroleum Corp. in the late 1990s and later as minister of land and natural resources. Analysts say the corruption charges could be related to China's foreign oil purchases.