America's newest grandmaster is also its 2014 junior champion.
In his fourth try at the title, GM-elect Kayden Troff broke through to win the under-21 U.S. Closed Junior crown, using a strong finishing kick to tally a 7-2 score, 1½ points ahead of FM Michael Bodek and IM Samuel Sevian, at the Chess Club and Scholastic Center of St. Louis Sunday. The 16-year-old Troff had just qualified for the grandmaster title by obtaining his final norm at the Chicago Open and was in Washington, D.C., right before the event with the Young Stars — Team USA squad promoting chess instruction in the schools.
The young Utah star had an indifferent start to the event, including a bad loss to FM Michael Bodek just before the midtournament rest day. But he seized control right after the break in Rounds 6 and 7 with consecutive wins over IM Luke Harmon-Vellotti and IM Jeffrey Xiong.
Harmon-Vellotti succeeds in getting the opening out of well-charted channels with his 2. b3!? in this Sicilian, but Black's 9. 0-0 g5!?, exploiting the blocked position of the bishop on d3, is a forceful reaction to White's unorthodox play. After 10. Nd2 Bg4 11. f3?! (creating a target around his own king; better was 11. Qe1 Be7 12. h3 Be6 13. Bc4, and the queen is well placed to defend and to exploit any opening of the center) Be6 12. Kh1 h5. Black's plan is simple and effective: Open any and all lines to the White king.
The g- and h-files open up, and White loses a vital defender on 14. gxh4 Bh6 16. Bc4?! (Nc4 gxf3 17. Rxf3, retaining the knight, is much better, as White has nothing to fear from 17. Bf4 18. Rd1 Bg4?! 19. Be2! Bxf3+ 20. Bxf3 Qc7 21. Nxd6+ Kf8 22. Nf5). Bxd2! 17. Qxd2 Bxc4 18. bxc4 gxf3.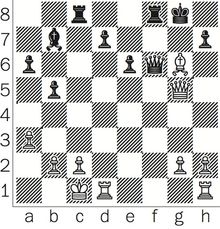 Harmon-Vellotti now had to try 19. Qe1 Nd7 20. Rd1 Qxh4 21. Qxh4 to try to slow down the Black attack, as his 19. Rae1? comes up badly short on 19. Rxh4 20. Rxf3 Nxe4 21. Qe3 Qd7 22. Rfe1 0-0-0!, and the addition of Black's second rook to the attack quickly proves decisive.
White chooses the quick execution over the lingering death with 23. Rxf7? (Black still gets a near-winning edge after the doughtier 23. Rg1 Rdh8 24. Rg2 Qg4! 25. Qe2 [Rxg4? Rxh2+ and mate in three; Black's threat was 25. Qxg2+! 26. Kxg2 Rxh2+ 27. Kf1 Rh1+ 29. Ke2 R8h2+ 29. Kd3 d5 30. cxd5 cxd5, and the check on d2 will be lethal] Qh5 26. Re3 Qxe2 27. Rgxe2 f5) Rxh2+!, and White resigned facing mate from both 24. Kg1 Qg4+ 25. Kxh2 Rh8+ 26. Qh3 Rxh3 mate and 24. Kxh2 Rh8+ 25. Kg2 Qg4+ 26. Qg3 Qxg3 mate.
–
For opponents, he's now officially unsafe at any speed.
Not content with being the world champion at classical time controls, Norway's Magnus Carlsen added to his crown collection last month by sweeping the FIDE World Rapid (Game/15, 10-second increment) and World Blitz (Game/3, 2-second increment) Championships in Dubai. Neither event was a cakewalk — Carlsen won the rapid tourney by a half point over a quartet of challengers, including former world champ Viswanathan Anand and world No. 2 GM Levon Aronian of Armenia.
Playing well and playing fast often go together: Bobby Fischer, Tigran Petrosian and Anatoly Karpov also rank among the greatest blitz players in history. A fine example of Carlsen's prowess at accelerated time controls came in his powerful rapid win in Dubai over Russian GM Vladimir Potkin.
Even a 2,600-plus veteran grandmaster can play scared when facing the relentless Norwegian. In this Taimanov Sicilian, Potkin as Black covers up instead of fighting back, ceding the clear initiative to White after 12. Qxe3 Be7?! (Black has nothing to fear from the obvious 12. Bc5 13. Qg3 0-0 14. Ne4 Be7 15. 0-0-0 f6.) 13. 0-0-0 b5 14. Ne4 0-0 15. Bd3 (keeping the tension; 15. Nd5!? Bb7 16. Nxb7 Qxb7 17. Bd3 f5 doesn't promise much for White) Bb7 16. Nf6+! — a good, rapid move that forces the time-pressed defender to walk a tightrope.
White gives his opponent no time to breathe: 16. Bxf6 (on 16. gxf6, White has a perpetual check whenever he wants but can play for more with 17. Qg3+ Kh8 18. Qh4 f5 19. Qxe7, and Black is back on his heels). 17. exf6 g6? (tougher was 17. gxf6! 18. Rde1 [Bxh7+ Kxh7 19. Rd3? Rfc8, and the mate threat allows Black to defend] Rfc8, with about equal chances in a double-edged position) 18. f5! Qd8 (exf5? 19. Qh6) 19. Qg5 Rc8 (worth a look was 19. exf5 20. Bxf5 h6 21. Qh4 Qb6, though White is still better) 20. fxg6 fxg6 21. Bxg6!, when White wins the exchange after 21. Rxf6 22. Be8+ Rg6 [Kh8 23. Qe5! Kg7 24. Rxd7+] 23. Qxd8 Rxd8 24. Bxg6 hxg6.
But Black's defensive woes are too numerous after the game's 21. Qxf6 (see diagram) 22. Bxh7+! (exploiting the loose Black bishop on b7) Kh8 (Kxh7 23. Rxd7+ Rf7 24. Qxf6 wins) 23. Qh5 Kg7 24. Rxd7+ Rf7 25. Bd3! (also leading to a won endgame was 25. Qxf7+ Qxf7 26. Rxf7+ Kxf7 27. Rf1+ Kg7 28. g3) Qf4+ 26. Kb1 Rxd7 27. Qh7+ Kf6 28. Qxd7, and Black resigns as he's down two pawns, and his king is toast after 28. Bxg2 29. Re1 Rc6 30. Qe8.
Harmon-Vellotti — Troff, U.S. Junior Closed Championship, St. Louis, June 2014