For a time, it did not appear that the Nationals would have a single reliever at the All-Star game in Minneapolis on Tuesday.
It took a player pulling out of the game for setup man Tyler Clippard to even make the National League's final roster, and the absence of any Washington reliever had rankled the clubhouse all last week. Clippard's late addition on Sunday probably didn't do much to soothe those feelings.
That's because, on a team whose lineup was crippled by injuries and whose rotation has never been completely intact, the bullpen has been the steadiest unit in 2014. With a combined ERA of 2.67, the Nats' relievers are third in baseball. Only Seattle (2.39) and San Diego (2.56) have been better. That has allowed Washington to post a 51-42 record in the first half and remain percentage points ahead of the Atlanta Braves for first place in the NL East.
---
SEE ALSO: SNYDER: Like it or not, Derek Jeter is reason to watch All-Star game
---
It looks a lot like the group that had the seventh-best ERA in 2012 (3.23) and not the one that fell to 17th last season as the Nats missed the playoffs.
"All three guys in the back of the bullpen I'm sure were considered. It's a tough process, especially with relievers. It's very difficult," manager Matt Williams said of All-Star selections. "They've been fantastic for us. … We're proud of the way they have performed."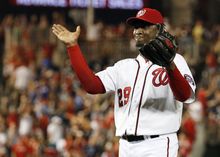 While Clippard will be left to carry the banner for the entire team at Target Field, his honor belongs to the bullpen he represents:
A mainstay in the bullpen since GM Mike Rizzo first blew the whole thing apart during a miserable 2009 season. Except for a brief spell as the closer when Drew Storen was hurt in 2012, Clippard is what he has always been: One of the best setup men in the game. He allows Williams the luxury of getting through the heart of the opposing batting order even if it comes up in the eighth inning and not the ninth.
This season he's added a split-fingered fastball that he uses sparingly, but to devastating effect. His change-up remains one of the sport's most baffling pitches.
Rafael Soriano
Snubbed in the first go-around by NL manager Mike Matheny, Soriano wanted no part of the All-Star game once a spot opened. That's in part why Clippard was chosen. But there's no question Soriano deserves to be in Minneapolis. He looks like a different pitcher than the one Washington saw last season. Soriano has a 0.97 ERA and a WHIP of 0.81 (19 hits, 11 walks, 36 strikeouts) thanks in part to a slight uptick in velocity. He has converted 22 of 24 save opportunities. Does his quiet demeanor off the field hurt?
"How much does that matter when you've got numbers like he's got?" Clippard said. "It's eye-popping stuff. You have to take notice. Somebody didn't take notice, and it doesn't seem right. I'm not making those decisions. It's just surprising."
Drew Storen
Relegated to a setup role with Soriano's signing prior to last season, Storen faltered to a 4.52 ERA and spent time at Triple-A. There have been no such issues this time. He can pitch as early as the seventh inning or handle the eighth if Clippard needs rest.
The ERA is 1.20, better than in his 43-save 2011 season (2.75) or the half-season he put together after elbow surgery in spring training of 2012 (2.37). The addition of a change-up has helped keep hitters from looking fastball early in the count. Too often, they could wait out his devastating slider and smash the fastball, instead.