ANGOLA, La.— In the sweltering heat of the 18,000-acre prison here, a joyful declaration over a loudspeaker pierced the suffocating air. "Shawn Martin," the name of an inmate's child, reverberated among a crowd of hundreds of prisoners and their families.
Arms outstretched, young Shawn dashed across the brown dirt of an inmate-built rodeo stadium. Racing to meet him halfway, Shawn's inmate father fled a gaggle of prisoners across the arena and swept up his son. Each tearfully hugged and kissed the other almost frantically.
The scene played out repeatedly this week — 150 times in all — as inmates dressed in cheerful, bright-colored shirts at the once-infamous Louisiana State Penitentiary at Angola united with their children, grandchildren, great-grandchildren, nieces and nephews.
---
SEE ALSO: Louisiana's Angola Prison Rodeo marks 50 years
---
Inmates known as "lifers" — about four-fifths of Angola's prisoners are serving life terms or facing execution — were reduced to tears. Hardened prison guards looked on with apparent affection.
It wasn't always this way. Angola was once known as the bloodiest state prison in the nation, catapulted to infamy from the 1950s through the 1980s by its deadly assaults among prisoners, tragic riots and jailbreaks from what some inmates considered a modern-day slave farm.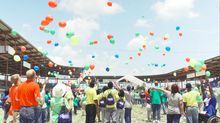 The American Bar Association once derided the prison as "medieval, squalid and horrifying." In the early 1950s, a stunning 31 prisoners cut their Achilles tendons in desperation to protest their living conditions.
---
PHOTOS: The prison that dared to pray: Angola used faith, family to stem violence
---
Today, a different atmosphere permeates the prison, which boasts a working farm, a museum chronicling its history, an accredited seminary and even an annual rodeo competition. Staff and prisoners alike credit an emphasis on faith, family and redemption through hard work that a white-haired, burly man named Burl Cain brought to Angola when he arrived as warden in 1995.
The prison no longer suffers from chronic escapes, deadly violence or racism — incidents now relegated to the prison's public museum. Those inside say it is because this correctional institution views each inmate not as a subhuman incorrigible transgressor, but as a soul worth saving.
"We are teaching these people things like how to be certified mechanics and how to respect themselves and each other," Mr. Cain, 72, said in an interview with The Washington Times. "But that alone would only make them smarter criminals. We teach them morality through our Christian ministries and the examples we try to set. We change them spiritually."
On Monday, the prison held its annual family reunion, dubbed Returning Hearts. Some fathers and children met for the first time. Others renewed love and joy in a carnival-type environment where almost all wore brightly colored shirts and some released balloons into the air in celebration.
Mr. Cain presided, with a gaggle of VIPs in tow.
Standing beside him and addressing the convicts were former Arkansas Gov. Mike Huckabee, also a former Baptist minister and a former presidential candidate, and former Rep. J.C. Watts Jr. of Oklahoma, who was a football star in college.
The three leaders seemed to be in cohesion about bringing inmates to Christ and teaching many of them how to be accredited ministers of the Gospel, including lifers whose ministries consist solely of other inmates.
The numbers provided by prison authorities tell a tale that appears to suggest religion, done right, is the answer for all but the most hardened felons.
From 1988 to 1994, the average annual combined totals for homicides, suicides, escapes, assaults on prison staff, assaults by inmates on inmates with weapons and — a separate category — without weapons — were 1,400.