If you have ever wondered what Abraham Lincoln saw when he came under Confederate fire, a visit to Fort Stevens would be in order.
And if you have ever imagined Union troops preparing for battle, touring Fort Mahan could add grist to your imagination.
The remnants of Civil War-era fortresses encircle the District of Columbia — vestiges of Union efforts to safeguard the nation's capital during the conflict that tore apart the country.
Today, the network of ruins, artifacts and preserved sites amid the city's rolling hills and tree-filled spaces, maintained by the National Park Service, form the Fort Circle Parks of hiking and biking trails.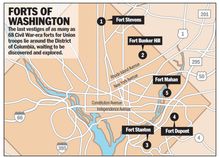 At first glance, this fort looks like a close-sheared grassy expanse meant for a game of soccer or Frisbee. But beware: If you start a game, you might find yourself face to face with the muzzle of a cannon.
Two cannons are embedded in a series of mounds that stretch across the middle of the field in a half-circle. The mounds are fortified by low cement walls fashioned to resemble the long-discarded wooden supports they replaced.
A dried-out moat runs along the base of the mounds. If you sit for a moment in this grassy groove and gaze out at the field, you can almost feel the rumblings of approaching Confederate boots and hear the scrape of saber against saber.
At the intersection of 13th and Quackenbos streets in Northwest is where President Lincoln is said to have come under Confederate fire in 1864 in the Battle of Fort Stevens, though historians debate the accuracy of the account.
Of the 68 Civil War Defenses of Washington, Fort Stevens is the only one that saw battle, according to the National Park Service.
The nearby Battleground National Cemetery holds the remains of 41 of the 59 Union soldiers killed during the battle.
Fort Bunker Hill
Named for the site of the famed Revolutionary War battle, this fort once boasted 13-gun artillery. Now it is a fortress of vegetation.
Fort Bunker Hill stands at 13th and Otis streets in Brookland in Northeast amid seemingly impenetrable greenery on all sides.
Enter the thicket at street level and hike uphill toward the fort's center to find a rock bearing a commemorative plaque. Also waiting to be discovered are the remains of an amphitheater commissioned by Franklin D. Roosevelt during the Great Depression to create construction jobs for the Civilian Conservation Corps and host community events.