ANALYSIS/OPINION:
Derek Jeter hit the trifecta for a sports icon — money, love and respect.
It's not an easy triple crown. You can have your agent negotiate the money — mountains of it. Ask Alex Rodriguez.
---
SEE ALSO: Nationals second-half preview: Starting from the top
---
Jeter will have earned about $265 million over his career when he retires at the end of this season. A-Rod will have made about $300 million, and could wind up with $360 million when all is said and done.
How much would he have given back to have a night like Jeter had at Tuesday's Major League Baseball All-Star Game?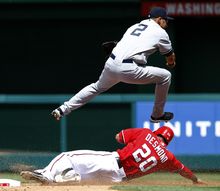 You can't negotiate that. You have to earn it on the field, in the bleachers, the sports bars, people's living rooms. You can't buy your way into people's hearts.
---
SEE ALSO: MLB second-half preview: Oakland the team to catch
---
Like the Beatles said, "Money can't buy you love."
Ian Desmond should have been paying close attention to Jeter's All-Star evening. He, too, has that rare opportunity to win that triple crown.
No one is suggesting that the Nationals shortstop is Derek Jeter. But he is on track for a good — perhaps great — major league career.
Desmond, 28, has won the last two Silver Slugger awards at his position — a position that future Hall of Famer Troy Tulowitzki plays. He hit 45 home runs and drove in 153 runs in the past two seasons. He leads the team in home runs this year with 16, with 57 RBI.
He can be erratic at shortstop, but he can be remarkable as well. He is a player you want on your team — as witnessed by the number of phone calls general manager Mike Rizzo would receive about Desmond from rival GMs early in his major league career.
He is laying the groundwork for the first part of the Jeter triple crown.
He is well on his way to the other two — love and respect.
Desmond is a stand-up guy. He and Jayson Werth are the leaders of this team, but unlike Werth, Desmond treats people with respect. He reaches out to others, such as his the "Ian Academy All-Stars," the group of scholar athletes from the Washington Nationals Youth Baseball Academy, where Desmond sits on the board of directors. He has been an active and aggressive supporter of raising money for neurofibromatosis, a genetic disorder that often results in tumors.
He reaches out to young players to help them. Earlier in his career, after he came up to the major league club, Desmond would show up at local minor league games in the Nationals organization to show his support.