Israeli forces on Sunday escalated their ground operations in Gaza City, leading to the deadliest day in the nearly two-week conflict between Israel and Hamas-backed forces amid calls by top U.S. and Israeli officials for a cease-fire.
The Israeli military reported that 13 soldiers were killed early Sunday, and Palestinian authorities reported that at least 65 Palestinians were killed as air and tank fire pummeled the city for hours. More than 420 Palestinians, as well as at least 20 Israelis, have been killed since fighting began July 8.
Secretary of State John F. Kerry said Hamas, which wants Israel and Egypt to ease their border blockade of Gaza, should immediately agree to a cease-fire without preconditions.
---
SEE ALSO: Netanyahu spokesman: Israel 'looking into' Hamas claim of captured soldier
---
"You cannot reward terrorism. There can't be a set of preconditioned demands that are going to be met," Mr. Kerry said on NBC's "Meet the Press." "So we support the Egyptian initiative, joined in by Israel and others, to have an immediate cease-fire. And we're working that cease-fire very, very hard."
Mr. Kerry will travel to Cairo on Monday to assist that effort, the State Department said.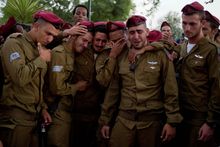 United Nations Secretary-General Ban Ki-moon, in Qatar Sunday on the first leg of a Middle East tour, condemned the violence and said Israel must exercise "maximum restraint," and all sides must respect international humanitarian law.
---
PHOTOS: Israel intensifies Gaza ground assault on conflict's deadliest day yet
---
The secretary-general met with Palestinian President Mahmoud Abbas, Qatar's Emir Sheikh Tamim bin Hamad al-Thani and Qatari Foreign Minister Khalid al-Attiya in Doha in an attempt to kick-start stalled talks of a possible cease-fire.
In an appeal filmed in Doha, Mr. Abbas called on the international community to protect Palestinians against what he called the current "unbearable" situation.
"The U.N. Security Council has failed to protect Palestinians, and I call on the council to hold an emergency meeting today to protect Palestinians. What Israel did today is [a] crime against humanity," he said in the recording shown to reporters.
The U.N. Security Council, at the request of Jordan, was scheduled to hold an emergency meeting on the situation in Gaza on Sunday night.
Sunday marked the third day of a stepped-up ground offensive from Israel after it has tried to dismantle Hamas rocket launchers and ground tunnels into Israel with airstrikes for the past 10 days.
Much of the Sunday fighting took place in Gaza City's Shijaiyah neighborhood, which Israeli officials have blamed for some 8 percent of the roughly 1,700 rockets fired at Israel since the latest round of fighting began.
Palestinian authorities reported that some 35,000 people were forced to flee from the latest round of fighting, with dozens of homes destroyed. Tens of thousands more have fled their homes and are seeking shelter in schools and other shelters the United Nations has set up, according to the U.N. refugee agency for Palestinians.
President Obama spoke with Israeli Prime Minister Benjamin Netanyahu Sunday by phone about the ongoing conflict — their second call in the last three days, the White House said.
Mr. Obama reiterated the United States' condemnation of attacks by Hamas, reaffirmed Israel's right to defend itself and raised "serious concern" about the growing number of casualties on both sides, according to a readout of the conversation released by the White House.