ANALYSIS/OPINION:
Not everyone is cut out to be a pioneer.
Thankfully, the role doesn't require a horde of people.
---
SPECIAL COVERAGE: Washington Redskins
---
Being at the forefront of unprecedented developments can be uncomfortable. The level of attention and scrutiny spikes like temperatures in July. Everywhere you go, the environment changes as soon as you arrive. Normalcy warps and cracks and becomes a distant memory.
After a while, though, firsts aren't such a big deal.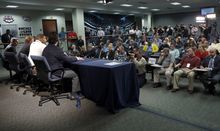 Sure, they're always honored for their roles. Their names are etched in stone and the history books. They are recognized for their feat as long as they live.
---
SEE ALSO: Tony Dungy defends Michael Sam critique, tosses blame on Oprah Winfrey
---
But as more folks follow suit, what once was considered bold, daring and shocking becomes the new norm.
By then, when the magnifying glass goes away and the spotlight goes out, it's easier for the masses to join in and do the right thing, too.
So we shouldn't be overly harsh in judging Tony Dungy's comments that he "wouldn't want to deal with all of it," and therefore wouldn't have drafted openly gay NFL player Michael Sam.
It turns out that Dungy's heart really is in the right place.
He simply isn't pioneer material.
"… I felt drafting him would bring much distraction to the team," Dungy said in a statement released Tuesday, attempting to quell the firestorm he ignited by earlier remarks to the Tampa Tribune.
The former NFL coach proceeded to explain that he "would not" have a problem having Sam on his team; sexual orientation "should not" be part of player evaluation; and Sam "absolutely" deserves an opportunity to play,
Furthermore, Dungy said playing in the NFL "is, and should be, about merit" and he doesn't believe that Sam's orientation will be "a distraction to his teammates or his organization."
It's not Sam that would worry coach Dungy.