RICHMOND — Understanding that the mental aspect of Robert Griffin III's development can be just as fragile as the physical side, new Washington Redskins coach Jay Gruden and offensive coordinator Sean McVay took steps during the offseason to focus on their quarterback's psyche.
The two didn't need to restore Griffin's confidence, which, despite a tumultuous second professional season, remained extraordinarily high. They weren't worried about his ability to grasp the offense, which has been altered in the transition between coaching staffs.
Instead, they looked at Griffin in the same way many others have over the past two years: They considered him a talent ready to be molded.
---
PHOTOS: Redskins' 2014 training camp opens in Richmond
---
"We've just got to continue to build," Gruden said. "He's in his third year. He's still going to make mistakes here and there. The key for him is to learn from those mistakes and not make those same mistakes over and over and just continue to get better and better every day. He's the type of guy that will."
Griffin wasn't able to adequately show much of what his new coaches have taught him as the Redskins opened training camp Thursday morning. A steady rain delayed the start of the first practice by 30 minutes and didn't dissipate until a half-hour remained, leading to a sloppy performance by the offense that the quarterback later termed "not as efficient."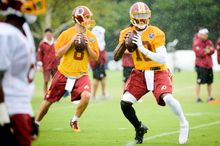 The opening of camp had a different feel for Griffin, who, a year ago, was restricted to 7-on-7 drills as he worked his way back from surgery to repair torn ligaments in his right knee. On the field without the knee brace that sturdied him all of last year, the quarterback, exhausted by the saga, finds it beneficial to not have to worry about injuries.
---
SEE ALSO: DeAngelo Hall: In picking best NFL corner, 'I'll take myself'
---
"It's really just a good thing to have two coaches that believe in you," Griffin said. "Sean and Jay have done a great job of giving me a lot on my shoulders in that quarterback room, and you know, I cherish that. You want to be asked to do more — or just to do the bare minimum. As a quarterback, you have to have that fire in your heart that says when things are going wrong, you're going to get it right."
Last season ended poorly for Griffin, who was benched by then-coach Mike Shanahan over what was couched as a decision made in the best interest of the quarterback's long-term health. When Gruden was hired, bringing in a former quarterback and offensive-minded coach seemed to be, at the very least, a means of placating Griffin.
On Wednesday, the day before training camp began, Gruden made clear that Griffin would remain the team's starting quarterback.
"The stress is kind of off," said cornerback DeAngelo Hall. "[There's no more] worrying about reps, worrying about the head coach — you don't really know about if he likes you, if he doesn't like you, things like that. From the jump, from the moment that Jay came in here, Robert kind of knew that Jay wanted him and wanted to coach him. He felt like he could be special — and we all see that."
Under the Redskins' previous coaching staff, Griffin's ability to run the ball at times overshadowed his need to throw it. Gruden has made clear that while Griffin's speed and athleticism will be an asset, the focus will be on keeping him in the pocket.
What will be most important for Griffin during training camp and the preseason, Gruden said, will be the repetitions he'll receive in practice. Griffin said his greatest mental development during the offseason was his ability to learn the playbook, but it will be up to him to now show that he's been able to handle it.
"He's got a fresh mind," said wide receiver Aldrick Robinson, one of Griffin's closest friends on the team. "It's a new year. He realizes that, and he's not trying to dwell on the past. He just wants to be the best R.G. he can be. He's not worried about last year or his rookie year. He's just worried about this next year."
Hall said he, and many other players, were initially struck by Griffin's humility when he first joined the team as a rookie two years ago. Griffin set about trying to earn his teammates' respect — which Hall said didn't take long — by proving his mental acumen.
For the Redskins to succeed again, he'll have to do so once more.