Capitol Hill negotiations on a Veterans Affairs reform bill teetered on the verge of collapse Thursday, as acting VA Secretary Sloan Gibson warned that the troubles at the scandal-plagued agency will only get worse without more federal funding.
Internal reviews show the agency needs about $17 billion through fiscal 2017 to hire doctors and nurses, provide more space for appointments, update technology and expedite disability decisions to eliminate the backlog, Mr. Gibson said. He is worried that lawmakers will pay to send patients outside the VA to end the wait list crisis without fixing the actual VA system.
"I believe that the greatest risk to veterans over the intermediate to long term is that additional resources are provided only to support increased purchases of care in the community and not to materially remedy the shortfall in internal VA capacity. Such an outcome would leave the VA even more poorly positioned to meet future demand," Mr. Gibson told the House Veterans Affairs Committee.
---
SEE ALSO: GOP offer to fix VA gives $10 billion in emergency funds
---
Lawmakers questioned how the money would be used and if it was even the right amount the department needed to run smoothly, noting that the VA has admitted its data are not accurate.
"Our veterans deserve the best, but throwing more money into the department that has never been denied a dime will not fix the perverse culture that has pervaded the department," said House Veterans Affairs Committee Chairman Jeff Miller, Florida Republican.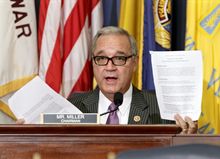 Following widespread findings earlier this year that VA officials maintained secret waiting lists while ailing veterans were waiting for care, the House and Senate both passed bills that would allow veterans facing long waits or a lack of access to a VA facility to seek private care. The bills cost about $44 billion and $35 billion, respectively, and lawmakers held one public meeting weeks ago to negotiate a compromise.
---
SEE ALSO: VA apologizes to forgotten Marine veteran locked in Fla. clinic, forced to call 911
---
But the search for a deal faltered Thursday when Mr. Miller introduced his own bill at a meeting of the conference committee that Senate Democrats say they were not consulted about. Senate Veterans Affairs Committee Chairman Bernard Sanders, Vermont independent, and Senate Democrats refused to attend the conference gathering.
Mr. Miller's "idea of negotiation is: 'We have a proposal, take it or leave it,'" Mr. Sanders complained. "Any sixth-grader in a school of the United States understands this is not negotiation. This is not what democracy is about."
The House GOP blueprint would give the VA $102 million for the rest of fiscal 2014. It would also give the department $10 billion in emergency funds that would never expire. When the VA ran out of money, it could come back to Congress to show what progress it had made and ask for more.
"It's basically the Senate bill, except it's not all mandatory funding," Mr. Miller said. "It's a simple, straightforward offer."
Mr. Sanders, however, introduced his own plan on the Senate floor. The $25 billion Senate bill, with $3.3 billion offset, includes many of the same provisions as the House plan, such as private care options and increased firing authority for the secretary, as well as other provisions in the leases for more space and changes to the GI Bill.
Both sides want to send a bill to the president before leaving for a monthlong vacation at the end of next week. But with two new proposals on the table, it's unclear who will make the next move.
"I don't know where the ball is right now. I wish I did," Mr. Miller told reporters. "He's put something out; we've put something out. We'll get back together Monday if he wants to do so to vote on something."
Mr. Sanders said he is willing to work through the weekend, but that Mr. Miller's proposal to hold a vote on the House bill Monday shows that Republicans are not open to a compromise.
Democrats called Thursday's conference meeting a publicity stunt, and most members of the caucus did not show. Mr. Miller, however, said he scheduled the conference meeting to bring some of the negotiations that have been happening privately into the public eye.