In another presidential foray into territory once reserved for Congress, President Obama's Department of Energy is exploring setting up sites to store reserves of gasoline in various places around the country to provide backup when major storms and other emergencies cut off access to local fuel supplies.
Citing long lines at gasoline stations in New York and New Jersey in 2012 after Superstorm Sandy flooded local refineries on the coast, the department this month established the first such reserves, containing 1 million barrels of gasoline to serve the Northeast region. To pay for it, the administration used about half of the nearly $500 million it raised through an unusual test sale of crude oil from the Strategic Petroleum Reserve this spring.
While the Northeast gasoline venture raised some questions and eyebrows on Capitol Hill, congressional Republicans did not try to block it and have expressed little opposition to the administration's broader plans. The apparent acquiescence led a former George W. Bush administration official who was in charge of the Strategic Petroleum Reserve to lament that major changes are occurring with "little public discussion or policy debate" in a key national security program.
---
SEE ALSO: TRIPLETT: Colorado liberals risk all to oppose oil
---
"Changes to the configuration or size of the SPR have always been guided either by legislation or conformance to a plan," said John Shages, a former deputy assistant energy secretary for petroleum reserves who recently wrote an analysis questioning the administration's "ad hoc" changes for the Energy Policy Research Foundation.
Mr. Shages blamed gridlock and "severe budget constraints," as well as the problems posed by a natural shrinkage of the salt caverns holding the petroleum reserves that has occurred in recent years as a result of inadequate maintenance by the Energy Department. That shrinkage — barring a major, costly effort to prevent it — gives the Obama administration an incentive to siphon down the 686-million barrel reserves and replace some of the oil with gasoline, he said.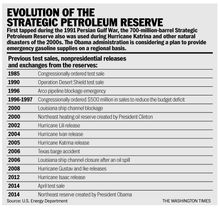 When the administration announced its plan for gasoline reserves stored in the Northeast this spring with little fanfare, Energy Secretary Ernest Moniz hinted that it may be only the beginning. He has set up an internal review process to determine whether other such regional reserves are needed in times of emergency. The department also still has about $300 million from the test sale of petroleum reserves this spring that analysts say could be used to fund additional gasoline reserves in other regions.
Stuck in the 1970s
The gasoline reserve program appears patterned after a 2 million-barrel heating oil reserve program that President Clinton established for the Northeast during his last year in office. The 2000 Clinton program also was initially funded with exchanges of crude oil from the petroleum reserve, with little involvement from Congress. Eventually, Congress accepted the program, however, and has continued to fund the reserve through regular appropriations bills.
Mr. Moniz, the White House and some members of Congress view the gasoline reserve program as a much-needed updating of the 1970s-era law that established the 700 million-barrel strategic oil reserve. That program envisioned releasing oil primarily in times of national emergency when a disruption in critical oil supplies in the Middle East or elsewhere threatened the U.S. economy.
While Mr. Obama has tapped the reserve for traditional reasons — in 2011, he authorized the sale of 30 million gallons of crude after a civil war temporarily cut off Libya's oil exports — he is now taking the program in a new direction with the gasoline reserves, which would fill shortfalls mostly stemming from local disruptions in fuel supplies.
Mr. Moniz contends that an update of 1970s-era laws is needed to address the growing risks to energy security that are posed not only by new geopolitical threats, such as cyberattacks or radical Islamic terrorism, but by climate change, which was widely blamed in the Northeast for causing Superstorm Sandy.
"Today, it's a different world," he said in commissioning a "quadrennial review" by the department's staff earlier this year. "The energy world looks nothing like [what] almost all analysts expected — certainly a decade ago. It certainly does not look anything like the oil world of the 1970s."
Mr. Moniz said the country still needs the Strategic Petroleum Reserve in case of global supply disruptions, but he suggested that structural changes were needed to update the program.
"I think a re-evaluation of a lot of things from the 1970s may be merited [for] crude oil exports [and] the petroleum reserve. The DOE was a child of the 1970s."
"Maybe," he told Platts Energy TV, "our structures could be re-examined."