It took piles of cash and a pair of contracts that could prove to be headaches a few years from now.
But it is also hard to dispute that the Capitals improved their blueline this week with the signing of free agents Matt Niskanen and Brooks Orpik, who left the Pittsburgh Penguins for D.C. That was the organization's top goal coming into the offseason to help restart a team that missed the Stanley Cup playoffs for the first time since 2007.
And that meant a five-year, $27.5 million deal for Orpik, who turns 34 on Sept. 26. That one drew jeers from pundits around the NHL. Niskanen, meanwhile, had the best season of his career to earn a seven-year contract worth $40.25 million. That caused a far lesser outcry given Niskanen is still just 27. But with a few pen strokes Washington added a pair of veterans who should stabilize a group that was top heavy in 2013-14 and couldn't cope when injuries struck.
"I like our defense," new Caps general manager Brian MacLellan said. "We have six really good defensemen. I think we have a good balance now. We'll let it play out and see how we're doing."
The addition of Niskanen and Orpik gives new coach Barry Trotz, whose teams in Nashville were always built around defensemen, and assistant Todd Reirden, who coached both newcomers last season with the Penguins, something that has been in short supply in Washington: depth.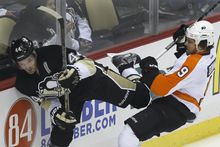 The early plan is to keep Niskanen on the right side, though he has played on the left before during his time with Pittsburgh and the Dallas Stars. The question is how to divide the minutes with John Carlson and Mike Green. Those two combined for 77 points last season.
MacLellan has said multiple times this offseason that nagging injuries hampered Green last season, though he still led the team in Corsi-for (51.7) and Fenwick-for (51) percentages. Washington outshot the opposition with Green on the ice. Both Niskanen and Green, who enters the final year of his contract and will have a $6 million salary-cap hit, are paid like top-four defensemen. The reality is that only one of them will be.
But that gives Trotz and Reirden options when they construct their pairings during training camp or tweak them during the season. On the left side, Karl Alzner has spent the majority of his time with Carlson in recent years. He is not a factor offensively and struggled at times in former assistant coach Calle Johansson's defensive system. But he and Carlson were trusted with the toughest assignments last season. Alzner had a Corsi-for of 47 percent despite that quality of competition and he led the team in short-handed time on ice.
What Alzner can't provide is the kind of crease-clearing, physical play Orpik has long excelled at. Whether he can still do that at an acceptable level is in question after a rough season with the Penguins, and that contract could be among the league's worst in short order. But MacLellan was insistent that the Caps' blueline desperately needed his skillset and leadership. If they paid too much for it, so be it.
"I just think these two players, on top of the numbers that they have, the intangibles — I guess I would be the only one that knows how they can make players around them better," Reirden said. "There's no number that can tell you that.
Dmitry Orlov, who turns 23 this month, was Green's primary partner on the left side last season taking 41 percent of the shifts next to him and showed flashes of the promise that once made him a top prospect. He did suffer a broken left wrist while playing for Russia at the World Championships, an injury that required surgery and could keep him out of training camp. Put those two together again as a third pairing against weak competition and the numbers could pile up.
Washington used 14 defensemen last season and four of them had never played a game in the NHL before. Now, there is a roster crunch with veteran defensemen John Erskine (491 games) and Jack Hillen (266 games) left out of the rotation. Orlov's injury, however, could provide both players with a chance to make a push for a top-six job in training camp. Erskine's salary is prohibitive at $2 million this season.
Hillen broke his right leg early last season and didn't return until March. Erskine never looked right after undergoing knee surgery last summer. But their presence also allows younger defensemen like Nate Schmidt and Connor Carrick to continue their development at AHL Hershey. Both players spent time with the Caps last season.
"We had some needs and we addressed them," MacLellan said. "We had some cap room, ownership gave the green light to get to the cap and we spent the money where we thought we needed to spend it the most."