Hurricane Arthur made landfall Friday morning in North Carolina, hampering Fourth of July plans for Americans and ousting them from beach vacations.
The hurricane, now down from a Category 2 to a Category 1 storm, made landfall near the Outer Banks and was expected to move northeast, The Associated Press said.
Vacationers hoping to spend America's birthday on the sandy shores of Outer Banks had their plans cut short, or cut off completely.
---
PHOTOS: Hurricane Arthur hampers Fourth of July
---
Dare County issued a mandatory evacuation order Wednesday requiring everyone to leave Hatteras Island, home of the famous Hatteras Lighthouse, by 5 p.m. Thursday, courtesy of the first-named storm of the Atlantic hurricane season. A voluntary evacuation order was also issued for Ocracoke Island, which is accessible only by ferry.
The city of Boston made the call to move up its annual Boston Pops Fourth of July and fireworks show to avoid any possible clashes with Arthur. As of Thursday evening, the storm's forecast track showed it making its way past eastern Massachusetts on Friday.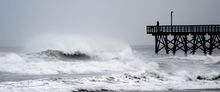 Hurricane Arthur also prompted the cancellations of other Independence Day events along coastal Massachusetts, particularly in Cape Cod and the islands south of Boston, where a tropical storm warning was issued, the AP reported.
---
SEE ALSO: North Carolina coast survives Hurricane Arthur
---
Weather is supposed to vastly improve for the remainder of the holiday weekend, though officials were warning beachgoers to watch for high waves and strong undertow after the storm.
For those in Washington, D.C., a Capitol Fourth, the biggest entertainment event of the weekend, will begin at 8 p.m. Friday on the West Lawn of the U.S. Capitol.
Hosted by Tom Bergeron, this year's lineup includes musical performances by Frankie Valli, Patti LaBelle and Michael McDonald as well as country music performer Sara Evans, American Idol winner Jordan Sparks and the National Symphony Orchestra. Admission begins at 3 p.m. with the fireworks display scheduled for 9:15 p.m.
Emma Collins contributed to this article.