American businesses shifted into a major new hiring mode this year despite weaker growth, sending the unemployment rate plummeting to 6.1 percent and the average number of new jobs surging by nearly 250,000 a month for the first time since the technology boom of the 1990s.
That news from the Labor Department Thursday helped push the Dow Jones industrial average soaring over 17,000 for the first time ever and raised hopes that the economy is finally hitting its stride as it enters its sixth year of expansion. The economic fireworks on the eve of the nation's Independence Day celebrations left pundits and economists grasping for superlatives to describe the welcome news.
"June job growth creates a bang for Fourth of July," said Doug Handler, chief U.S. economist at IHS Global Insight, who noted that the robust 288,000 job gain in June was "especially noteworthy for its broad-based gains" in such highly paid professions as finance, architecture, consulting, computer design, education and government.
---
SEE ALSO: EDITORIAL: Obama's amazing shrinking economy
---
"This report also brought good news in the form of who got new jobs," he said, with less-educated high school graduates and long-term unemployed people — those among the hardest to re-employ — enjoying a disproportionate share of job gains. Retail and restaurant jobs also surged, showing that "consumer spending remains in good shape" despite some weakness associated with unusually bad weather early in the year, he said.
With aggregate hours among American workers' reaching a record high during the month, employers appeared to reach the point where they no longer felt they could ask their existing employees to do more work, and finally decided to go out and hire new workers, economists said.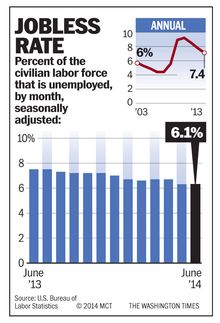 "The U.S. labor market shifted gears in the second quarter," challenging notions that the economy is struggling and cannot muster more than tepid growth, said Harm Bandholz, chief U.S. economist at UniCredit Research. He noted the huge drop in the unemployment rate from 6.7 percent to 6.1 percent since March was among the steepest and fastest seen in the last 30 years.
---
SEE ALSO: Lew: World markets can handle Iraq oil disruptions
---
Unemployment has now fallen from a high of 10 percent in 2009 to just above the 5 percent range, which economists consider normal for an economy in the midst of a business upturn. While some of that decline is due to discouraged workers dropping out of the labor force entirely, economists say it also is a signal that the economy has entered a new, mature phase of the expansion, where growing jobs and higher wages generate higher consumer spending and put growth on a self-perpetuating path forward.
"The June employment report was, without question, the most comprehensively constructive jobs report this cycle," said Tom Porcelli, chief economist at RBC Capital Markets. The nearly 250,000-a-month job gains since February not only were the strongest in decades, but they represent a major step up from last year's hiring pace of 195,000 a month, he said.
Wages heading up
Wage gains for production workers — who make up the vast majority of consumers and depend on wages for nearly all of their income — were particularly robust, growing at a 4.6 percent annual rate, taking into account the economywide increases in jobs and hours worked, he said. "The positive trend in the wage pie is a key ingredient in our view that consumer growth will accelerate."
"The first half of 2014 has been the best six months for job creation in this lackluster recovery," said Joseph Lake, analyst at the Economist Intelligence Unit. But he noted that the jobs report presented "conflicting narratives" with a report from the Commerce Department last month that showed an unusual plunge in U.S. GDP of 2.9 percent during the first quarter. Apparently, the biggest surge in jobs in nearly two decades occurred in part while the economy was contracting, not growing.
"With such a disconnect between headline [GDP] and employment, it is difficult to know what is happening in the underlying economy," he said. "Companies are creating jobs at a rapid rate, while the economy is tanking."
But like the other economists, Mr. Lake concluded that the pickup in economic momentum shown in the jobs report is likely the more accurate reflection of the economy's underlying strength as it corresponds with a period of rising consumer confidence, stronger factory output and an uptick in the housing market.
"The U.S. economy is gathering momentum," he said.
Some economists were astonished by the apparent breakthrough revealed in the jobs report.