RICHMOND — The prosecution's star witness in the public corruption case against former Gov. Bob McDonnell and his wife took the stand on Wednesday and quickly undercut the McDonnells' long-standing story that tens of thousands of dollars in gifts, loans, clothes and golf outings he provided them were motivated by friendship.
"He's a politician, and I'm a businessman," said Jonnie R. Williams, the former CEO of nutritional supplement company Star Scientific Inc. "This was a business relationship."
The federal government has accused the McDonnells of promoting Mr. Williams' interests in exchange for more than $150,000 in gifts and loans. They have professed their innocence.
---
SEE ALSO: Bob McDonnell's defense: Lonely wife developed 'crush' on CEO
---
Mr. Williams, who has remained largely below the radar in the 18 months the scandal has swirled around him, testified Wednesday that he indeed sought the governor's help from early on in their relationship.
His appearance on the witness stand came as something of a surprise. After sensational disclosures about the McDonnells' relationship during opening statements Tuesday, the trial had gotten underway with testimony from two of the McDonnells' children and a handful of lesser figures in the case. The prosecution had not announced any particular order in which witnesses would be called in what is expected to be a five-week trial.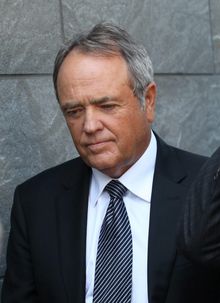 Mr. Williams was called to the stand about 4:30 p.m. to begin what is likely to be a lengthy testimony that many observers believe could decide the outcome of the case.
---
SEE ALSO: McDonnell trial to test definitions of political corruption
---
In roughly an hour of questioning, Mr. Williams was asked about his relationship to the former governor and first lady and his business. Appearing tanned, in a dark suit, white shirt and dark-striped tie, he discussed why he flew politicians — mostly Republicans — around in his private jet.
"I think it's become common practice in Virginia," he said. "If you're a Virginia company, you want to make sure you have access to these people. And the airplane accomplishes that."
The McDonnells' defense lawyers have dismissed Mr. Williams as a serial exaggerator who is willing to say anything to escape potential security fraud charges in an unrelated case. They have noted that he has been granted immunity in exchange for his testimony.
Mr. Williams, nevertheless, portrayed himself as a pioneering entrepreneur on the verge of unleashing a medical breakthrough by which anatabine, a chemical found in tobacco, could be harnessed to reduce inflammatory diseases. He said an anatabine-based product he crafted helped cure his wife of possibly fatal thyroid problems but that he needed further testing, potentially supported by the state, to advance it. He suggested he was simply looking for a final push and a little help.
Mr. Williams said he first encountered the former governor on an airport tarmac in March 2009 when Mr. McDonnell used the businessman's jet during the gubernatorial campaign. Mr. Williams said he asked to meet with Mr. McDonnell in New York after the November election "to develop a relationship with him — a business relationship."
Mr. Williams, at that meeting with the governor and the first lady, agreed to help Mrs. McDonnell procure a dress for the upcoming inauguration until a staffer for Mr. McDonnell nixed the idea. Mrs. McDonnell said she'd take a "rain check," according to Mr. Williams.
The two men eventually talked about Mr. Williams' work on a flight from California, where Mr. McDonnell had traveled for political purposes in October 2010.
Mr. Williams said Mr. McDonnell agreed to put him in touch with his secretary of Health and Human Resources.
He said that he managed to get the governor and Mrs. McDonnell to briefly attend an event in February 2011 in Richmond for a product called Cigirex that he described as an "alternative to smoking."