The Nationals had just one player selected to the National League All-Star team on Sunday with an outside chance at a second.
Starting pitcher Jordan Zimmermann, who pitched six innings against the Chicago Cubs on Sunday, was chosen by NL manager Mike Matheny. He will play in front of a large contingent of friends and family in Minneapolis, site of this year's All-Star game and just a three-hour drive from his hometown of Auburndale, Wisconsin.
Meanwhile, Washington infielder Anthony Rendon was one of five players named to the Final Vote contest in the National League. Fans will have a chance to vote one more player into the game this week from among Rendon, Anthony Rizzo, Justin Morneau, Justin Upton and Casey McGehee.
---
SEE ALSO: Jeff Samardzija an All-Star without a league after trade
---
"Five weeks ago I was thinking I'd be home having a little vacation," said Zimmermann, who had a 4.07 ERA as recently as May 28 after a slow start to the season. "I just started throwing strikes and locating a lot better. The slider finally came back. I didn't have it for a month-and-a-half. I was able to get that back and that's a big pitch for me."
Zimmermann wasn't at his best on Sunday against Chicago. He gave up at least one hit in every inning and his pitch count bloated quickly. But he tossed six shutout innings — the Cubs only had two hits in the same frame against him once — and he lowered his ERA to 2.79. Over his last seven starts, Zimmermann has an ERA of just 1.26 with 46 strikeouts and a 6.6 strikeout-to-walk ratio.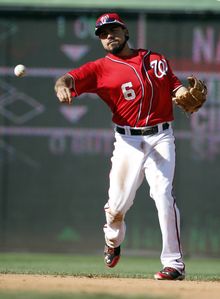 Rendon, at age 24 and in just his second full season in the majors, has thrived playing third base, his natural position, and second base. He moved back to second once teammate Bryce Harper returned from the disabled list earlier this month, pushing veteran Ryan Zimmerman back to third. But the constant position switches haven't hurt his bat. Rendon is hitting .282 with 12 home runs and 50 RBI. His on-base percentage is .340.
---
SEE ALSO: Denard Span, Nationals edge Cubs to keep rolling at home
---
"I've grown more accustomed this year. It was a a little bit of a challenge last year," Rendon said of keeping his bat going despite the transition in the field. "Then going into spring training this year, I got a lot of reps than I had in the past at third base. So I'm getting used to second base. I guess earlier this year it kind of helped the transition, I guess, more easier. And it's actually gone pretty well."
But there's no guarantee he'll be voted onto the team. And that could leave Washington with just one representative, a thought that rankled many on a club that entered the day with the best run differential in the NL and is just a half game out of first place in the NL East. Adam LaRoche was left off, though he had intense competition at first base. But he is hitting .294 with 12 home runs and 45 RBI. His on-base percentage is an excellent .401.
Closer Rafael Soriano, however, has a 1.03 ERA after earning his 21st save of the season on Sunday. He has blown just two saves and his WHIP is a minuscule 0.83, less than a base runner per inning. Soriano has struck out 32 batters and walked just 11. Washington has the third-best bullpen in baseball with a team ERA of 2.54, trailing on San Diego and Seattle.
"It's a joke, to be honest with you," set-up man Tyler Clippard said. "I don't know who's going to make it. I'm sure there's a lot of worthy guys out there in the league that have done really well. But what Soriano has done this year, there's no way he doesn't make the All-Star team in my opinion. The guy's got under a 1.00 ERA and 21 saves. It's incredible that he didn't make it."