Khalil Mahmoud was intent on helping the Americans who came to free his home country from Saddam Hussein — and now the U.S. is repaying Mr. Mahmoud by granting him citizenship.
Mr. Mahmoud, who lost his eye in an insurgent attack during the heavy fighting in 2004 yet was back on the job just a week after being released from the hospital, is one of several thousand citizens of Iraq and Afghanistan who risked their own lives to help coalition forces, and whom the U.S. rewarded with special visas granting them admission to the country.
On Tuesday, more than a decade after he signed up to help the U.S., and nearly 10 years since the attack, Mr. Mahmoud took the final step, swearing the oath of allegiance that made him a citizen.
---
SEE ALSO: Iraq War logistics contract goes on years after withdrawal
---
"I liked to come to the United States to have opportunity," he told The Washington Times ahead of the ceremony. "I like the United States and its people, getting surgery in my eye to improve my vision, giving opportunity for my kids."
Mr. Mahmoud is one of the lucky ones. Through May 31, nearly 11,000 individuals who worked for the U.S., plus nearly another 15,000 spouses and children, have been granted visas admitting them to the U.S.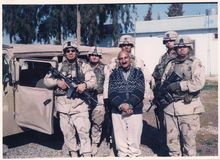 But tens of thousands more could be eligible, according to advocates. The Iraqi Refugee Assistance Project says at least 50,000 Iraq and Afghan nationals were employed by the U.S. since 2002, and pointed to a report that estimated one Afghan is killed every 36 hours for being affiliated with the U.S. military.
Some complain that the process takes years, leaving them vulnerable to retaliation while they wait.
And the program is on uncertain footing, having expired last year amid a political squabble over the government shutdown. Congress quickly moved to extend the program, but the State Department expects the remaining visas to be used up this month.
Still, at a time when Capitol Hill is debating immigration policy, Mr. Mahmoud's case is an example of the generosity of existing laws, and the tools the U.S. has to reward those who show their loyalty to a country they aren't even a part of yet.
After he signed up as a translator, Mr. Mahmoud pleaded to be assigned to an area where there was a lot of insurgent activity, and even gave up some of his days off to go on missions.
During one mission in late 2004, he went to catch a ride and saw a soldier sitting in an armored vehicle where he usually would be. He instead went to get a ride in an open-air Humvee.
A few hundred meters from their base, their convoy came across a vehicle in the road without a driver. Mr. Mahmoud said usually they wouldn't have tried to pass it, but for some reason they did drive by it — and when they did, it was remotely detonated, igniting 200 pounds of plastic explosives.
He was blinded in one eye and suffered serious damage in his other eye, and was eventually taken to Jordan for treatment. Released from the hospital after 40 days, he was told by the contracting company that employed him that he would be given workmen's compensation and receive a year's pay. He said he'd rather go back to work, saying it would send a signal to the insurgents.
"I want people to see me, that they didn't get me. I don't want the bad guys to feel that we made Khalil handicapped," he said.
He survived other roadside bomb attacks — by then the Army had better-protected Humvees — but he still pushed to be on the front lines, going on daily missions.