They arrived by the thousands, an orange-clad mob that shouted "Oh" during the national anthem as if it was just another night at Camden Yards.
In a fractured baseball market, where the Orioles and Nationals have every game beamed into every home with cable television, the sport's checkered history has mashed two fanbases unwillingly together. And yet, almost a decade after Washington rejoined the big leagues following a 34-year absence, a real rivalry has yet to translate to the field.
Maybe it takes more nights like Monday, when Nats fans sulked out of their own stadium after Baltimore hit three home runs in the 11th inning of what became an 8-2 victory. They were sent off by the cheers of Orioles fans who were loud all night, made up at least half the crowd of 35,126, and stayed late to bask in the win.
---
SEE ALSO: LOVERRO: Jordan Zimmermann validates wisdom of Nats' Strasburg shutdown plan
---
"Maybe some day it'll be different," bewildered Washington ace Stephen Strasburg said after pitching in Monday's loss. "Obviously, that franchise has been around a lot longer than we have. You can't really worry about it too much. Hopefully our fans travel well after tomorrow."
But to most of the players and coaches, none of whom grew up in the region, the series is a curiosity, the opponent just another team on the endless schedule. For them it's a perk to sleep in their own bed, play a "road" game within an hour of home and have plenty of their own fans on hand to cheer. The teams play before mixed crowds at Camden Yards, too.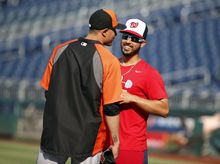 "We talked about it a little bit on the bench," Nats manager Matt Williams said. "If it was a weekend series, it'd probably be even [more fans]. Of course, people have to work. But it's great. It's a nice rivalry. Different leagues, of course, but everybody from the same area, and two different teams. Good atmosphere."
---
SEE ALSO: Identity crisis: The death of the legible autograph
---
But there was little intensity to his words and you can understand why. The Orioles play in the American League. Other than the four games this week — two in Washington, two in Baltimore — the clubs won't cross paths again unless they make it to the World Series.
"I think it's a different type of deal than say the Redskins-Ravens rivalry," said Nats outfielder Nate McLouth, who spent the past two seasons playing for the Orioles. "Just because Washington is a newer team, obviously, in the region. It seems like it's real friendly."
That's odd given the two football teams play each other just once every four years now with an occasional preseason matchup thrown in. But in football every game matters. The Redskins and Ravens met at FedEx Field late in the 2012 season. Washington won 31-28 in overtime, a game it had to win to make the playoffs. The atmosphere was electric.
After years of bad baseball, the Orioles and Nats are in annual contention now, too. Washington won the NL East in 2012 and Baltimore made the playoffs that year for the first time since 1997. They each had winning seasons in 2013 and this year they are flourishing again.
The Orioles were in first place in the AL East by three games entering play on Tuesday. The Nats were just a half game behind the Atlanta Braves for first place in the NL East.
"I'm not sure it's a rivalry," Washington outfielder Denard Span said. "But it is two good teams playing against each other, two sets of good fans here to support both teams and it just so happens both teams are playing well right now."
The seeds are there, however, if you look hard enough. The Nats and Orioles are locked in an endless, bitter dispute over the television revenue generated by the jointly owned Mid-Atlantic Sports Network (MASN). Major League Baseball is still trying to untangle that mess with ownership on each side lobbying to get its way.
And during the 34-year gap between when the old Senators moved away and the Montreal Expos moved south to the District in 2005, Baltimore used that vacancy to its advantage.
A generation of Washington baseball fans, especially those in the closer Maryland suburbs, migrated up I-95 and the Baltimore-Washington Parkway to Memorial Stadium and, later, Camden Yards. Ten seasons in, the teams still have no quarrel with each other. The intermingled fanbases keep trying to push them into one.