SANDUSKY, Ohio — The Cavaliers have cleared a path for LeBron James to return to Cleveland.
They've made their moves. They're just waiting for him to make his.
The Cavs created enough salary-cap space to offer the superstar free agent a maximum contract on Wednesday agreeing to trade guard Jarrett Jack, swingman Sergey Karasev and center Tyler Zeller in a three-team deal with Brooklyn and Boston, a person familiar with the deals told The Associated Press.
---
PHOTOS: AP Source: Cavs agree to multiplayer, 3-team trade
---
The person spoke on condition of anonymity because teams are not permitted to discuss trades until the league's moratorium ends Thursday.
The maneuvering is designed to open room under the salary cap so they can re-sign the Akron-born James, the four-time league MVP and most sought-after player on the market.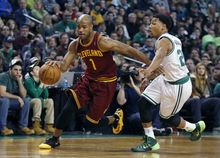 With open roster spots, Cleveland isn't done.
Not long after making the trade with the Celtics and Nets, the Cavs had exploratory discussions with the Minnesota Timberwolves about a possible trade for three-time All-Star Kevin Love — if James does return to Cleveland, said a person with knowledge of the inquiry.
The Timberwolves would be looking for No. 1 overall draft pick Andrew Wiggins to be part of any potential package from Cleveland in order to consider parting with Love if the talks were to become more serious, the person said, speaking with the AP on condition of anonymity because neither team publicly announced the conversation.
Whatever the Cavs' next move is — with or without James — they could package together their other assets, including future first-round picks, to make a run at other All-Star players.
Meanwhile, James had his meeting in Las Vegas with Miami president Pat Riley.
James, his agent Rich Paul, Riley and Heat executive Andy Elisburg were at the meeting, a person with direct knowledge of the discussions told The AP.
The person spoke on condition of anonymity because neither side publicly announced who would be attending the meeting or when it would take place.
James has not made a decision and will not make any announcements before Thursday, the person said.
With nothing finalized, LeBronathon 2014 will last at least one more day with the NBA — and fans in Miami and Cleveland — on edge.
And as he takes fans on another summer thrill ride, James has one more offer to consider in deciding where to play next season: Ohio's Cedar Point amusement park is promising to rename one of its roller coasters "King James" if he returns home to play for the Cavs.