Texas Sen. Ted Cruz tweeted Google Map directions to border towns from President Obama's planned fundraiser stops in Austin and Dallas.
"If President Obama wants to have a real border meeting with @GovernorPerry, here are a couple suggested detours," the Republican tweeted Tuesday to his 327,000 followers.
Mr. Cruz has joined Gov. Rick Perry in criticizing the president for refusing to visit the troubled southern border while he fundraises in Texas, a Houston CBS affiliate reported.
One map shows the driving route from Austin to the border town of Laredo, and another shows the route from Dallas to border town McAllen.
The tweet comes after Mr. Perry rejected a handshake from Obama in exchange for a one-on-one meeting to discuss the border crisis.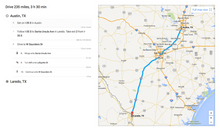 "I appreciate the offer to greet you at Austin-Bergstrom Airport, but a quick handshake on the tarmac will not allow for a thoughtful discussion regarding the humanitarian and national security crises enveloping the Rio Grande Valley in South Texas," he wrote in a letter to Obama. "I would instead offer to meet with you at any time during your visit to Texas for a substantive meeting to discuss this critical issue."
Mr. Perry will, however, meet with the president in Dallas to discuss the crisis in a meeting involving faith and local leaders, the CBS affiliate reported.