Otto Porter and Glen Rice Jr. don't have a long list of things they want to accomplish when the Washington Wizards begin NBA Summer League play in Las Vegas on Saturday.
But Rice, who played in the week-long, five-game showcase last year, knows one thing holds true.
"You don't want to play bad, because that looks even worse," Rice said.
Twenty-one teams, plus another comprised exclusively of D-League all-stars, will participate in this year's event, which opens Saturday for Washington with a game against the Atlanta Hawks.
Porter and Rice are the only players under contract with the Wizards, who invited 14 others — a mix of undrafted rookies and journeymen — to round out their roster.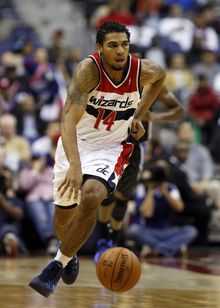 A year ago, the two arrived in Las Vegas as wide-eyed rookies beginning their professional careers. Porter struggled through his first two games before straining his right hamstring in the third, which caused him to miss the last two games. Rice showed he could score, but often had trouble with his shot selection.
Their initiation was also secondary to the development of two other young players, Jan Vesely and Chris Singleton, whom the Wizards hoped could play a large role for them last season. Vesely, the No. 6 overall pick in 2011, was traded to the Denver Nuggets in February after two and a half lackluster seasons. Singleton fell out of the rotation this past season and is an unrestricted free agent.
"Last year, we had other two-year guys on the team that were the go-to guys," Porter said. "They'd been there and they'd done it before, and now, we've been there and now we know what to expect. [Teammates will] look up to us to get things done and show them the way."
The No. 3 overall pick last June, Porter's rookie season was largely disappointing. The hamstring injury and a strained muscle in his right hip flexor led to him being squeezed out of the rotation at the start of the year, and he played in only 37 games last year, including a total of 6:04 in three playoff games — all blowouts.
Rice, drafted in the second round and 32 picks after Porter, wasn't even that fortunate. A week after making a spot start in a one-point home loss to the Nuggets on Dec. 9, Rice broke his right wrist, and the majority of his minutes upon his return were for the Iowa Energy of the D-League.
"We're gonna see what they can bring to the table," said Wizards assistant coach Sam Cassell, who is leading the team during the Summer League. "It's not about how many points they're scoring. I just want Otto and Glen to have a good [performance] the whole week."
At Georgetown, Porter was an aggressive scorer and a versatile defender who had a knack for grabbing rebounds. A tepid adjustment to the professional ranks last year impacted Porter's confidence, Cassell said, and his hope is that the Summer League stint will help it grow back.
When Porter grabs a rebound, Cassell wants him to push the ball up the court and make decisions. If he doesn't, he wants Porter to find ways to get open.
"He understands that he's not getting the ball all the time during the regular season," Cassell said. "But this year, this Summer League, he'll get the ball and have chances to do what he's supposed to do."
Rice, meanwhile, is just hoping for some measure of stability. Because the Wizards don't have a dedicated partnership with a D-League team, he was left to the whim of the coaching staff last season in Iowa. His most extensive run in Washington was during practice.